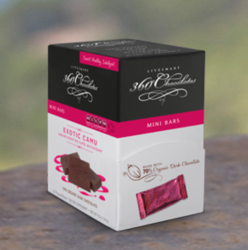 What absolutely sets LiveSmart 360's products apart from the world is the astounding discovery of revolutionary technology—ZorbMax
Sarasota, Florida (PRWEB) May 14, 2013
Innovative nutritional company, LiveSmart 360, has unveiled their newest addition to their unparalleled line of 360 Chocolates, the Exotic Camu Mini Bar.
This revolutionary healthy chocolate is sugar-free and made with organic dark chocolate blended with whole Camu Camu super fruit berries and incorporates LiveSmart 360's patent-pending ZorbMax® technology.
Camu Camu is a small red-orange berry found along the Amazon River in the Brazilian rainforests that boasts fifty-plus vital nutrients that help the body in over 300 different ways. According to the Linus Pauling Institute of Preventative Medicine, this extraordinary super fruit has the highest percentage of Vitamin C for its body weight than any other botanical found on Earth, 30 to 60 times more than fresh oranges. This naturally sugar-free treat is wrapped in 70% pure organic dark chocolate, making it a great chocolate option for diabetics.
Along with the groundbreaking nutrients of the Camu Camu super fruit; this healthy dark chocolate bar incorporates ZorbMax which is LiveSmart 360's patent-pending proprietary blend of electro-magnetically charged trace minerals. When ingested, these health-essential electrolytes impart their energy into the bloodstream, restoring the electrical charge on the surface of each blood cell in a matter of minutes. This process allows the cells to transport much more nutrition and oxygen to every part of the body while dramatically increasing the efficiency at which they remove toxins and waste.
Every variety of 360 Chocolates has something unique that no other company or brand has. Besides the purity, potency, and purpose of the all-natural ingredients in each of their delicious varieties, what absolutely sets LiveSmart 360's products apart from the world is the astounding discovery of revolutionary technology—ZorbMax.
Exotic Camu Mini Bars, along with the entire line of 360's best dark chocolate for health can be seen on LiveSmart 360's website.
Mark McCool, Founder and CEO of LiveSmart 360, shares his perspective: "We are very excited about the merit of our substantial investments into creating and developing our 360 Chocolates brand line. This concept brings together our focus on providing world-class health and wellness solutions through nutrition, and the world's growing passion for dark chocolate as a healthier option for something sweet. The concept is not only revolutionary as a business model; it is quite honestly a lot of fun to be involved with. Everyone we talk to loves the idea of getting healthy while eating our chocolates. We see these first steps as just the beginning of a very comprehensive brand strategy."
Derrick M. DeSilva, Jr., M.D. of the teaching faculty at JFK Medical states: "From a scientific standpoint, no other single source of complete form Vitamin C is available on the planet that comes close to what is found in the Camu Camu berry per gram tested. The Camu used for 360 Chocolates uses a patented technology and is the only whole fruit capture process I am aware of, and that proprietary process retains up to 80% of the nutrient impact of the raw fruit as found wild in the Brazilian Amazon. The proven health benefits of the Camu Camu are impressively long and chart-topping in almost every category of health enhancement."
Like and follow LiveSmart 360 on Facebook and Twitter for the latest on products, deals and tips on healthy living.
About LiveSmart 360:
Founded in 2010, LiveSmart 360 was created to help people "Live Life Better" in all 360 degrees of their lives through the use and representation on world class breakthrough nutritional products, personal development and cutting edge technologies which are the envy of the health and wellness and direct marketing industries. Led by its Founder and CEO, Mark McCool, and under the direction of its Medical Advisory Board – headed by the world-renowned Derrick M. DeSiva, Jr., M.D., the company has grown from a handful of unique nutraceuticals to a growing line of over twenty-three nutritional supplements including Manna 360 nutritional shakes and their healthy indulgent line of 360 chocolates. To learn more about LiveSmart 360's products, visit http://www.livesmart360.com.