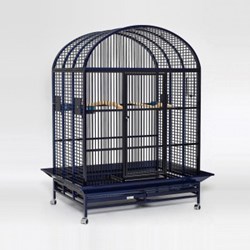 Ammon, ID (PRWEB) May 06, 2013
BirdCagesNow.com is pleased to announce the addition of Avian Adventures to its long lineup of premium bird cages and accessories. Whether a bird owner needs a cage for a small Parakeet or large African Grey, chances are they'll find one offered at BirdCagesNow.com. Avian Adventures is a trusted brand in the bird cage business who have made a name for themselves over the the years. Now, anyone can purchase Avian Adventures bird cages directly from BirdCagesNow.com at rock-bottom prices.
Bird Cages Now is owned and managed by Boise, Idaho-based company Store Chain, Inc. Their goal is to provide the best-quality bird cages at unbeatable prices. Over the years, BirdCagesNow.com has developed some strong business relations with cage manufactures like as Avian Adventures, allowing them to successfully accomplish this goal.
"We're very excited to be featuring Avian Adventures brand cages. They've remained one of the most popular types of bird cages on the market, and now we're able to offer them to our customers," said BirdCagesNow.com manager Michael Hermansen.
When it comes to quality, there's no better choice than Avian Adventures. Unlike other manufacturers who try and produce as many cages in the shortest amount of time simply to make a buck, Avian Adventures places an emphasis on quality rather than quantity. This high level of craftsmanship is apparent in each and every cage manufactured by the company. Avian Adventures is known to offer top-quality, well-built cages that are designed to last a lifetime.
If someone is interested in purchasing an Avian Adventures bird cage, they will be pleased to hear that Bird Cages Now carries all styles and sizes. Small-sized models are available for Parakeets and Parrotlets, or there is a choose of larger models for African Greys and Macaws.
Some of the most popular styles of Avian Adventures bird cages include dome-top, play-top and multilevel models. Of course, BirdCagesNow.com also offers Avian Adventures travel cages for instances where a person would need to move their bird or parrot. Instead of forcing them to travel in a box where they are more likely to be injured, the bird can safely be transported in a proper cage.
In addition to their lineup of birdcages, Bird Cages Now offers Avian Adventures accessories for sale. These accessories include items such as playstands, shelves, feeder cups and cage covers. Adding some of these accessories will create a more enjoyable living experience, which is something every bird owner should seek.
With so many new models being added to their site, it's no wonder why Bird Cages Now is the web's leading bird cage site. There is an enormous selection, low prices and free shipping offered to buyers. Check out their site today to see why so many people choose BirdCagesNow.com.