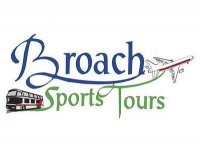 The best thing about it is that it's good for any of our tours this summer.
Charlotte, N.C. (PRWEB) May 04, 2013
Broach Sports Tours is bringing back its fabulous "10-10-10" discount promotion for all 27 of its Major League Baseball tours in 2013, president Tom Broach has announced.
In the next 10 days, starting May 4, anyone booking a baseball travel package will receive a 10 percent discount when they put down a 10 percent down payment.
"We've had some great discount promotions this winter and spring, and they have all been very popular, so we have decided to offer our '10-10-10' discount again now that the regular season is in full swing," Broach said. "The best thing about it is that it's good for any of our tours this summer."
The 10 percent discount could amount to as much as $325 per person based on double occupancy for the gem tour of the summer – the All-Star Grand Tour from July 12-22. The tour boasts all All-Star activities at the Mets' Citi Field including the Home Run Contest and the All-Star Game, plus Toronto at Baltimore, Chicago White Sox at Philadelphia, Minnesota at the New York Yankees, the Yankees at Boston, the Phillies at the New York Mets, and the Los Angeles Angels at Washington, plus tours of Yankee Stadium, Fenway Park and Cooperstown, plus city tours of New York, Boston and Washington, D.C.
"That package is a baseball lover's dream," Broach said. "It's very rare that we can match up the MLB All-Star Game with so many other great games and city tours, plus Cooperstown."
The 10 percent discount also applies to all other Broach baseball trips, which visit all 32 Major League stadiums in 2013. There are old favorites like the Boston-New York Loop tour, the Great Lakes tour, the Deluxe Midwest tour, the Southern California tour and the Classic Northeast tour. And BST has added a unique Elusive tour for the first time, with visits to Miami, Atlanta, Colorado, Texas and Houston.
Broach Sports Tours also offers four weekend getaways to Atlanta during the summer and additional New York weekend packages.
Broach Sports Tours, based in Charlotte, N.C., has been a leader in the sports and group travel industry for the last 21 years. It specializes in Major League Baseball travel packages as well as Masters and Ryder Cup golf packages and tennis travel packages to the Australian Open, French Open, Wimbledon and the U.S. Open.
For more information, contact Melanie Smith at 1-800-849-6345 or visit http://www.broachsportstours.com.