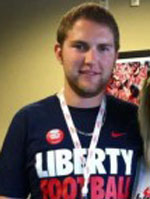 Lynchburg, VA (PRWEB) May 03, 2013
In reaction to the gun control debate in America, Liberty University recently loosened — not strengthened — its concealed weapons policy on campus, and is now providing a scholarship to a North Carolina high school student who was arrested for leaving a shotgun in his pick-up truck in the school parking lot, Fox News Radio reported.
Chancellor Jerry Falwell, Jr. while traveling in North Carolina, learned of Cole Withrow's story from a local evening news broadcast on WRAL. The 18-year-old student was wearing a "Liberty University" T-shirt.
Withrow is an eagle scout and an honor student who has completed a number of gun safety courses. He had been skeet shooting a day before his arrest, and only realized he had left the gun in his car once he arrived at his High School, Fox News reports.
Knowing school policy, Withrow immediately locked the gun in his truck, and went inside the school to call his mom to solicit her help in getting the gun home, according to Fox News.
After a school official overheard the phone call, the gun was discovered and Cole was promptly arrested, and given a 365 day suspension from school, according to Fox News. The suspension will not allow him to graduate, and school officials are not negotiating. Withrow has legal representation.
Chancellor Jerry Falwell, Jr. issued the following statement, "When I reached out to encourage this responsible and impressive young man, I learned that he wanted to go to Liberty University, but couldn't afford it. I told him that we would do whatever he needed so that he can attend Liberty. Anti-gun zealots tried to vilify him for doing the right thing, so Liberty has decided to award him the help he needs to attend a private Christian college. I was really impressed with Cole. He is a humble and meek Christian kid who only wants to do the right thing! We want students like Cole Withrow."
Note: Liberty University's concealed weapons policy now allows qualified students, faculty and staff to carry concealed firearms on campus and in all buildings, excluding residence halls.
About Liberty University
Liberty University, founded in 1971, is the largest private, non-profit university in the nation, the largest university in Virginia, and the largest Christian university in the world. Nearly 100,000 students attend classes on its 6,800-acre residential campus and study in its thriving online education program.