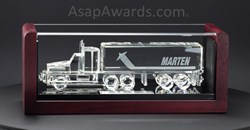 St. Louis, MO (PRWEB) May 04, 2013
Long-haul trucking company, Marten Transport, recently awarded their drivers with custom awards ordered from ASAPawards.com in an effort to show their appreciation. ASAPawards.com was proud to take on the challenge of constructing and engraving each of the awards ordered with Martin Transports logo to match their tractor trailers on the road. They are a leader in corporate awards, trophies and employee recognition items and were more than happy to offer their high-end trophies to Marten Transport.
Marten Transport handed out the crystal awards from ASAPawards.com to honor their "Million Milers." As you may have guessed, these were given out to drivers who've tallied over one million miles on the road, which is an impressive and well-deserving feat to say the least. There were a total of 27 drivers who were honored at the event with a fine award from ASAPawards.com "We're really proud of these individuals. I think their work ethic, loyalty and dedication are just amazing," says Nancy Nelson, Marten's Human Resources Administrator.
The event drew a crowd of over 200 people who came to watch the dedicated drivers be inducted into the "Million Milers" club. It was complete with a banquet where food and beverages were served, and each inductee was given an ASAPawards.com crystal tractor trailer truck award, engraved mantle clock, truck decal, hat and certificate of completion. It was an exciting and equally rewarding event that everyone enjoyed.
"We are committed to offering excellence in both product and customer service. This is apparent in each and every custom award we ship out," said ASAPawards.com Managing Partner Shawn Daniel.
With company headquarters located in St. Louis, Missouri, Asap Awards is a leader in corporate, student and service awards. Plaques, trophies and unique one-of-a-kind awards can all be found on their website. Along with traditional engraved plaques, they also offer 3D sculptures figurines such as dove awards, dolphin trophies, bull and bear award trophies, crystal paperweights, tractor trailer truck awards, star awards, crystal globe trophies and much more.
ASAPawards.com isn't a newcomer to the industry by any means. They've been in the business of creating high-end awards and trophies for over 30 years, and it doesn't look like they are stopping anytime soon.
One of the features that makes ASAPawards.com stand out from their competitors is the free engraving and artwork setup they offer on each award purchased through their site. They realize just how important it is to have an award engraved with the recipient's name and make the overall purchase easy for the customer. After all, that's what makes the individual feel special and appreciated.
Although all of the awards and trophies offered through ASAPawards.com are made with exceptional materials and craftsmanship, they are still priced considerably lower than similar products. When you factor in all of what they have to offer, it's no wonder why so many people choose to purchase their awards and fulfillment programs from them. Visit their site today and see for yourself why Marten Transport and numerous other companies have chosen them to create a unique engraved recognition to represent their employees achievements!