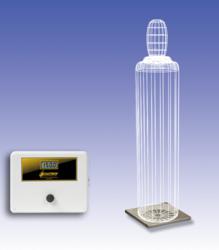 Production of the new model was straightforward -- maintain the successful design and features of the original Model 2308 and make the base larger. For customers who like the Model 2308's performance and features, now they have a 12-inch model.
Plumsteadville, PA (PRWEB) May 06, 2013
Scaletron Industries, Ltd., a manufacturer of corrosion resistant digital and mechanical scales, has expanded its line of gas cabinet scales with a larger version of the Model 2308 digital gas cabinet scale. Previously, the scale was offered in only one size, the Model 2308-9 with a base measuring 9x9x1 inches for weighing cylinders up to 9 inches in diameter. The new Model 2308-12 scale base measures 12x12x1 inches and accommodates cylinders up to 12" in diameter. Both models are designed for use in gas cabinets such as those found in the fire protection, liquefied gas, laboratory and medical gas industries, as well as refineries and semiconductor manufacturing.
"The original Model 2308 scale was very favorably received by customers," said Edward Dougherty, president of Scaletron Industries, LTD. "In fact, we received a lot of requests for essentially the same scale, but in the 12-inch size. Production of the new model was straightforward -- maintain the successful design and features of the original Model 2308 and simply make the base larger." Dougherty explained that the larger size scale permits improved throughput in gas filling procedures because the 12" cylinders hold more gas volume than the narrower cylinders. This enables longer periods of uninterrupted filling. "For customers who like the Model 2308's performance and features, but need a larger scale base, now they have it," said Dougherty.
Gas cabinet scale specialists, Scaletron has designed the new scale with complete corrosion resistance inside and out. The scale housing is stainless steel and the load cells are silicone coated for additional protection against moisture and other adverse weather conditions. Scaletron's expertise derives from the company's twenty-nine years in designing and manufacturing scales for use in water and wastewater treatment applications.
Like the smaller 9" model, the new Model 2308-12 scale consists of a two-part set up: the scale base and a wall-mountable, digital 3.5-inch LCD display. The compact display design facilitates trouble-free mounting on inside surfaces of gas cabinets. Cylinder support devices, fire sprinklers and other internal cabinet features do not interfere with display mounting. The display features a pounds/kilograms readout with a 4-20mA output standard, and is connected to the weighing base with a 12-foot 4-conductor shielded cable. The cable is jacketed with PVC and sealed with strain reliefs at the scale base and at the LCD indicator.
The digital display, including internal electronics, is housed in NEMA 4X, UL-approved enclosure which is resistant to chemicals including ammonia, carbon dioxide, hydrogen chloride, liquefied chlorine, sulfur dioxide and other corrosive materials. The 4-20mA module is mounted in the base and needs only a 24V DC loop supply. Both Model 2308 scales are also available with just the 4-20mA output in lieu of the display. An optional remote mounting indicator box may be installed up to 200 feet away from the scale base.
The new 12x12x1 inch scale base features sturdy four-point suspension of the weighing platform with stainless steel leveling feet. The low base height simplifies loading and unloading of cylinders without requiring a ramp. Only one inch high, the base height also enhances worker safety by minimizing the need to lift cylinders which can result in them being dropped.
The Model 2308 scale weighs with resolution to within 0.1 lb for loads of up to 199 pounds (90 kg). The scale handles loads of up to 349 pounds (158 kg) and has accuracy is to within +/- 0.5% of capacity. Because the scales are weatherproof inside and out, mounting near air inlets and cabinet doors presents no problems. Internal scale load cells are temperature compensated.
For more information about the Scaletron Model 2308 gas cabinet scales and other corrosion resistant scales, please phone Scaletron toll free 1-800-257-5911. The Scaletron web site also offers detailed information including drawings, OEM manuals and bid specifications: http://www.scaletronscales.com
About Scaletron Industries, Ltd.
Scaletron Industries, Ltd., is the industry leader in corrosion resistance technology for scales used in harsh environments. Scaletron scales are used in a broad range of applications and industries where reliability, accuracy and safety are paramount. These include municipal drinking water, wastewater treatment, industrial process water treatment, water management for municipal and commercial swimming pools, chemical processing, specialty gas production, fire protection, oil/gas and biofuels, and semiconductor manufacturing. Scaletron manufactures a full line of mechanical and electronic scales including cylinder, ton cylinder, drum, tank, platform, spill containment and gas cabinet. The scales offer corrosion resistant construction and a high degree of accuracy to 0.1%. Scaletron Scales are designed for weighing corrosive chemicals such as chlorine, carbon dioxide, sulfur dioxide, ammonia, hydrogen chloride, fluoride, alum, phosphate, sodium hydroxide, sodium hypochlorite and other liquids or powders. Scaletron offers a full, 2-year warranty on all gas cabinet scale products.
Model 2308 is a registered trademark of Scaletron Industries, Ltd., Plumsteadville, PA.