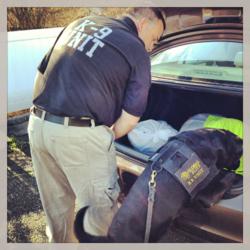 These amazing animals are able to detect a variety of suspicious substances adding another layer of protection to a security program.
Garden City, New York (PRWEB) May 06, 2013
The Global Elite Canine Unit has been expanded. Bell and Dodge, highly trained Labrador Retrievers have joined the explosives detection team as demand for bomb sweeps grows. "Our specially trained canine unit has increased through the expertise of Edward O'Driscoll, former NYPD officer who trains and handles these amazing animals credited with being able to detect a variety of suspicious substances," explained William McGuire, President & CEO of Global Elite Group (GEG). The new canine agents join Tony, another Lab, who has been successfully deployed for use in the field for over a year.
The recent attack in Boston has event planners and organizers on high alert, and animals trained for detection work are adding another layer of security when part of a protection plan. The risks cannot be completely eliminated as security professionals at GEG with law enforcement experience and crowd management realize, but approaches to security at venues will change moving forward. "These animals can detect dangerous or suspicious substances in such trace amounts that they have become an invaluable tool for an event of any size or when a security sweep is warranted," stated Edward O'Driscoll, handler for the Canine Unit at GEG. McGuire states, "GEG is seeing the demand for these services grow as clients become more proactive when it comes to the risks associated with having public or high profile events."
The requests for detection services are rising. Global routinely provides the service to its hotel, public events and school security details. "The use of the explosive detection canines really has limitless applications as the world has gone in this direction; risks are everywhere," offered O'Driscoll. The animals mingle with the crowd along with the handlers and GEG has found the dogs actually put people at ease knowing that they are working to keep everyone safe. "These are highly social and special animals, which enjoy the work they do whether it is at an airport or in a large crowd at an event, their noses are always on high alert." Years of training and experience goes into every dog and its handler. These trained teams work in sync and while they enjoy what they do, they are providing a service that cannot be replicated just anywhere. "Edward has worked in the busiest region of the world, the streets of New York. Along with his team of canines, GEG is providing clients with detection expertise they cannot just get from any security provider," added McGuire.
About Global Elite Group: With offices located throughout the world, the company provides security and emergency management services for companies of all sizes and is known for its emergency contingency planning in all markets and its aviation security programs for over 28 airlines located in the U.S. and abroad. The company is always expanding service offerings to compliment the security needs of individuals, companies and high profile travelers. The company is TSA certified to provide screenings to individuals and groups. Global Elite Group is a full-service event security management company with security details available for deployment to cover small venues to large-scale multi location events. Other services include risk assessments and asset protection.