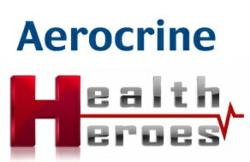 SOLNA, Sweden (PRWEB) May 06, 2013
Aerocrine AB announced today that their NIOX MINO® device will be featured in an upcoming episode of Health Heroes, set to air later this year via the Discovery Channel.
Aerocrine is focused on improving the management and care of patients with inflammatory airway diseases, such as asthma. This segment of Health Heroes will focus on Aerocrine's NIOX MINO®, a point-of-care device designed to measure fractional exhaled nitric oxide (FeNO), a marker for allergic airway inflammation.
Patients with allergic airway inflammation generally have higher than normal levels of nitric oxide in their exhaled breath. Audiences will learn how using the NIOX MINO allows physicians to measure the concentration of nitric oxide in an exhaled breath, in order to evaluate allergic airway inflammation.
"FeNO is a vital sign of allergic airway inflammation and patients need to be aware of their FeNO number to help appropriately manage their disease," states Ken Marshall, US President of Aerocrine.
"This innovation is used to perform a quick, objective and non-invasive breath test in order to give your healthcare provider insight to the level of airway inflammation," said Michele Nehls, producer for the Health Heroes series. "I'm proud to be able to educate our audience on NIOX MINO® test and the remarkable things Aerocrine's doing to help patients suffering from underlying asthma."
For more information please visit http://www.niox.com.
About Aerocrine
Aerocrine AB is a medical products company focused on the improved management and care of patients with inflammatory airway diseases. As the pioneer and leader in technology to monitor and manage airway inflammation, Aerocrine markets NIOX MINO®. This product enables fast and reliable management of airway inflammation and may therefore play a critical role in more effective diagnosis, treatment and follow-up of patients with inflammatory airway diseases such as asthma. Aerocrine is based in Sweden with subsidiaries in the U.S., Germany, Switzerland and the U.K. Aerocrine shares were listed on the Stockholm Stock Exchange in 2007.
Aerocrine may be required to disclose the information provided herein pursuant to the Securities Markets Act and/or the Financial Instruments Trading Act. The information was submitted for publication at 8:00 a.m. on May 3, 2013.
About Health Heroes:
Health Heroes is a powerful TV series dedicated to defining and exploring today's latest medical advances in all areas of health and wellness. Written with both the industry professional and television audience in mind, Health Heroes educates, entertains and enlightens the lives of our viewers.
For more information visit: http://www.dmgproductions.org or call (866) 496-4065.
About DMG Productions:
The DMG production team consists of producers, cameramen and editors that have worked for CNN, TLC, Discovery, and other major news and cable networks. Our staff includes personnel specialized in various fields from agriculture to medicine, independent films to regional news. Our field producers utilize the core concepts from our producers who storyboard our programs, and work closely with experts in the field to develop the educational programs. This powerful force enables us to consistently produce commercial-free, educational programming that both viewers and networks depend on.
Media Contact:
Michele Nehls, Executive Producer
(866) 496-4065 x 822
michele (at) dmgproductions (dot) org