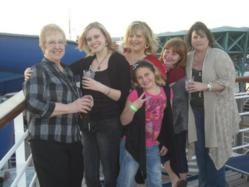 Susan Turner was the person who shaped Salon Success Academy into the 'people helping company' that it is today. We were lucky to have her and we want to do everything possible to honor her memory.
Upland, CA (PRWEB) May 06, 2013
Susan Turner was well known around Salon Success Academy for her selflessness; for doing whatever it took to insure the students were happy and finishing their education. She devoted her life to Salon Success Academy before she passed away in 2012. Now the students and staff at the school are trying to raise as much money as possible for the "Cut out Cancer with Salon Success Academy" Relay for Life team in honor of their beloved Ms. Susan.
Susan was instrumental in creating the school's first Relay for Life team in 2009. Heather Kilgore, who was a cosmetology student at the Upland campus at the time, approached Susan about getting the school to support her family's relay team. Susan helped the Salon Success Academy Student Ambassadors organize fundraisers to raise money and attended every team meeting. That year the 'Fight Cancer with Jeff' Relay for Life team raised the most money they have ever raised.
"When I was in school, I was struggling with food for my family. Ms. Susan would check on me every day to make sure I had something to eat. If I didn't, she would buy me lunch. She bent over backwards for me. She had a big, open heart and really cared about her students," Heather said.
It was a similar story with Ryan Ledbetter and his wife, who met each other when they were students together at Salon Success Academy. Ryan suffered from ADHD, so while he was excelling at the cosmetology material, he would become restless in class and often times get into trouble. Ms. Susan fought hard to keep Ryan in school, putting him to work in the corporate office to keep him busy. He began helping Ms. Susan with school tours and new student orientations, something that would later lead to the creation of the school's Student Ambassador Program.
"She was someone I could always talk to. She always knew the right thing to say to me," Ryan said. "Ms. Susan was a big part of everything I love about my life. If I didn't know her, I wouldn't have my wife, my child, or my career."
Susan was always passionate about cosmetology and education. She enrolled in a cosmetology Regional Occupational Program (ROP) in high school and continued on to cosmetology school after graduation. Once she got her license, she began working behind the chair at a local salon and as a cosmetology instructor for Marinello School of Beauty. In 1988, Susan obtained her teaching credentials from UCLA and started working for Salon Success Academy. She was quickly promoted to director of the Rancho Cucamonga campus before being appointed Director of Operations for the corporate office.
Susan's two sisters, Christina and April, also work in the Salon Success Academy corporate office. The women said working together was never a problem; the experience actually brought them closer together. They had a deep respect for their sister and boss and always tried to follow her example. Although, they admit getting her to stop working and relax could sometimes be a struggle. Susan took a long awaited vacation in 2010 when the family took a cruise to Mexico. Christina and April said trying to get their sister on to a boat without phone and Internet access was comical.
"Salon Success Academy was more than just work to us. It was a huge part of our lives. Everything we did, we did together. She's left a big hole in our lives that no one can fill," Christina Belcher said.
When they weren't at work, the sisters would travel to Arizona to visit their parents, where they would spend time boating on the Colorado River and going to the casino. Susan's family was very important to her, especially her nieces and nephews. She made it a point to make sure each one of them got their own "Aunt Susie time." Her sisters said she was her happiest when she was styling her clients' hair and working with the students. The feeling was mutual; her students and clients absolutely adored her.
"Susan had this way of making everyone around her feel special. She was the most giving person on the planet. It didn't matter if you were a stranger. If you needed something, she would give it to you out of her pocket," April said.
Last year, Susan was unable to attend the Relay for Life in Rancho Cucamonga because she was suffering from intense back pain. However, she still helped organize the students' fundraising efforts from home. The day of the event, she called her sisters every hour to get an update on the amount of money the team raised. Susan later learned that her back pain was actually uterine cancer. She passed away just a few weeks later on June 21, 2012.
"Susan dedicated her life to Salon Success Academy. There was nothing that made her happier than helping the students. She was the person who shaped this school into the 'people helping company' that it is today. We were lucky to have her and we want to do everything possible to honor her memory," Salon Success Academy owner Bob Gross said.
The "Cut out Cancer with Salon Success Academy" Relay for Life team is trying to raise $5,000 this year in Susan Turner's honor. Bob Gross has pledged that the school will match the amount of money the team raises. If you would like to donate to the "Cut out Cancer with Salon Success Academy" Relay for Life team, you can do so on the team's website.
The Relay for Life is a day-long event at Guasti Regional Park in Rancho Cucamonga on June 1, 2013. All of the money raised goes to the American Cancer Society to provide funding for cancer research and cancer treatment.