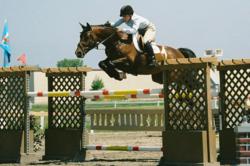 We travel a great deal in this business, and it's really unusual to find such a lovely area for a competition.
Traverse City, MI (PRWEB) May 28, 2013
Horse Shows By the Bay, a month-long "equestrian festival" held each summer in Traverse City, will celebrate its tenth anniversary July 3-28.
The festival brings thousands of the best-trained horses from the U.S. and Canada to the region each summer for a series of show jumping competitions -- including four Grand Prix events, the most competitive class of equestrian sport.
Show jumping has become one of the most popular of equestrian sports. Competitors drive hundreds of miles to participate in sanctioned jumping events, and crowds of fans and curious spectators turn out to watch them go through their paces.
"It's a fascinating thing to watch, even for those who don't think of themselves as horse people," says promoter Alex Rheinheimer, a horsewoman from Wellington, Fla., who is the dynamo behind Horse Shows By the Bay. "There's just something so graceful and stirring about these events."
At first glance, Traverse City might seem an unlikely location for such an event. Best known for its beaches, golf courses and spectacular scenery, it had never been famous as an equestrian center. But when Rheinheimer was investigating possible sites for a new United States Equestrian Federation event, she found the town's relaxed atmosphere, plentiful tourist amenities and cool offshore breezes an irresistible combination.
"We travel a great deal in this business, and it's really unusual to find such a lovely area for a competition," she said. "So many other places are just too hot and humid for the horses during the summer months."
Apparently, the rest of the equestrian community agreed. When Horse Shows By the Bay held its debut competition, hundreds of horses made the journey to northern Michigan – complete with teams of riders, handlers and grooms. So did plenty of spectators, including many who had never attended a horse jumping event before.
It proved so successful that in 2007 supporters built an entire facility -- the 84-acre Flintfields Horse Park, just east of Traverse City in the village of Williamsburg -- to accommodate the 3,000 competitors and support staff who travel here each summer for the festival.
Participants compete in one of two different styles – hunter and jumper – and are ranked in classes from introductory up to Grand Prix, where the cash prizes each week can go as high as $30,000. (All told, over $600,000 in prize money is awarded over the course of the festival, says Rheinheimer.)
The competitions are sanctioned by the United States Equestrian Federation, which allows horses and riders to win points towards year-end awards and titles. In 2012, the festival's Series III competition was voted the United States Hunter Jumper Association Zone 5 AA-rated Horse Show of the Year, while the North American Riders Group (NARG) has listed it among its Top 25 Horses Shows in North America for the three years in a row.
The event has also become a significant windfall for the economy of this coastal resort community in Michigan's Lower Peninsula. To date, organizers estimate that Horse Shows by the Bay Equestrian Festival has brought more than $65 million in tourism revenue to Traverse City area.
Each show week starts on Wednesday and ends on Sunday. Feature events are scheduled on the weekends and include the exciting Grand Prix plus exhibitions, special family day activities, and charity fundraisers.
"We have great expectations for a stellar 2013 season and look forward to many more," said Rheinheimer.
In addition to jumping competitions, Horse Shows by the Bay frequently features events in the equestrian sports of dressage and reining, where horses are taken through carefully planned movements – often accompanied by music -- in response to subtle commands from their trainers. In 2013, it will hold a three-day reining series Aug. 2-4.
To celebrate its 10th Anniversary, the 2013 Horse Shows by the Bay festival will feature several new awards – including four new $10,000 prizes -- and festive parties, including a gala anniversary celebration on Saturday, July 13.