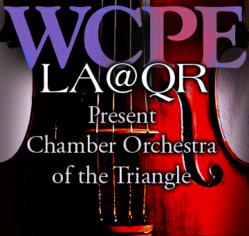 "That standard of excellence has become the hallmark of the orchestra."
(PRWEB) May 03, 2013
WCPE Community and Arts Liaison Tara Lynn announces a special Mother's Day event in WCPE Radio's Local Arts Series in collaboration with Quail Ridge Books and Music. The Chamber Orchestra of the Triangle will offer a short chamber music program including works by Beethoven and North Carolina native composer/violinist, Jennifer Curtis. This free event will take place May 12, 2013, at 4:30 p.m. at Quail Ridge Books & Music, 3522 Wade Avenue, Raleigh, NC.
Ms. Curtis will join Matt Chicurel, Laura Thomas and Jake Wenger, members of the Chamber Orchestra of the Triangle, in performing selections from Beethoven's opus 3 String Trio and opus 132 String Quartet as well as a new work by Ms. Curtis. The hour-long program will be interspersed with lectures by the performers on Beethoven's life and the compositional techniques used in these two contrasting works.
Dr. Joseph Kitchen organized the Chamber Orchestra of the Triangle originally under the name of St. Stephen's Chamber Orchestra in 1982. Its first conductor was violist George Taylor. In 1988, under the artistic direction of Lorenzo Muti, the ensemble reorganized as a non-profit cultural and educational organization, totally independent of the church where it originated. From the beginning, the orchestra was received with genuine respect and enthusiasm by the community, as well as by music critics. Today, it is considered one of the finest professional ensembles in North Carolina and the Southeast. With its elite corps of musicians the orchestra continues to present a well-chosen and unusual repertoire that delights audiences and evokes high praise from critics. That standard of excellence has become the hallmark of the orchestra and has distinguished each succeeding season.
About The Local Arts Series by WCPE and Quail Ridge:
Co-sponsored by WCPE FM and Quail Ridge Books and Music, the Local Arts Series is a monthly free event in which a local arts organization will talk about its mission and one of its upcoming performances. Designed to be as entertaining as it is educational, each event also includes a performance aspect. WCPE and Quail Ridge Books and Music both look forward to working with more arts groups in the future and, together, focusing on community educational efforts.
Quail Ridge Books and Music, 919-828-1588, 3522 Wade Avenue, Raleigh, NC, is an independent shop with a friendly, knowledgeable staff dedicated to providing the best in customer service. Their Music Department specializes in classical, jazz and traditional music and presents a diverse program of free concerts.
With a 30 plus year history, WCPE 89.7 FM is a non-commercial, 100 percent listener-supported, independent station dedicated to excellence in Great Classical Music broadcasting. WCPE is heard worldwide on the Internet in multiple formats, including the next generation IPv6. Because WCPE receives no tax-derived support, the station conducts two on-air fundraising campaigns and two major mail-out campaigns per year to raise needed operating funds. For more information, visit http://www.TheClassicalStation.org or call 919-556-5178.
Media Contact:
Curtis Brothers
919.556.5178
curtis(at)TheClassicalStation(dot)org
###