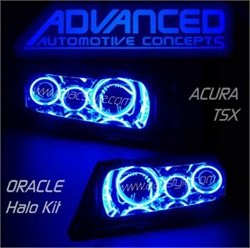 Ammon, ID (PRWEB) May 08, 2013
NFCperformance.com is now offering Oracle halo kits along with their current selection of automobile modification parts. These are designed to be simple enough so that anyone can install them, regardless of their automotive experience. A car owner who wants their car to stand out at night, can just browse through Oracle halo kits available NFCperformance.com and choose the one that's best suited for their car or truck.
"We are thrilled to offer our valued customers a wide variety of Oracle halo kits for virtually all vehicle makes and models. You can hop on our site, select the type of car you drive, and it will reveal the different types of Oracle halo kits available," said NFCperformance.com manager Michael Hermansen.
NFC Performance is operated out of Boise, Idaho through Store Chain, Inc. Unlike other auto competing auto parts companies, NFC Performance is located with a physical location here in the U.S. This is just one more reason to trust in them instead of some company operating overseas.
Whether someone purchases a single item or a dozen, all orders are packaged and shipped at no additional cost. Ever since they originally started, NFC Performance has kept true to their policy of offering free shipping to the contiguous USA.
Halo headlights are light-projectors in the shape of a halo (hence the name) that are designed to fit over your car's headlights. It's important to note that halo headlights shouldn't be used as a replacement for your car's headlights, but instead they should be used in conjunction with them. Once installed, halo headlights offer a uniquely stylish touch to ones vehicle that's sure to make it stand out at night. In recent years, halo headlights have become a popular car modification because of the stylish element they provide.
To get the most use and benefit out of your Halo headlights, it's recommended that the person install them with high-intensity discharge (HID) headlights. Doing so will create a brighter, whiter illumination as opposed to the dull yellow glow of most factory headlights.
NFCperformance.com offers much more than just Oracle halo headlight kits. One will find they have an enormous selection of Rota and ADR wheels as well. No matter what style someone is looking for, chances are they have it available for your vehicle. Therefore, a car fanatic can get rid of their cheap plastic rims and replace them with some higher-quality models today. It's a simple process that makes a dramatic impact on the appearance of a car. Talking to NFC Performance's friendly customer support team will help to decide which set of wheels is best suited for the car.
Yet another specialty of NFCperformance.com are body and lip kits. If a person is serious about modifying and improving the look of their car, there's no better way than by using a body kit. It will give the car a completely new look with several unique features and details.