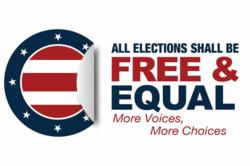 Little Rock, AR (PRWEB) May 03, 2013
Free & Equal is proud to announce they will be a sponsor of Rocklahoma: Life, Liberty & the Pursuit of Rock, a three-day musical festival on May 24, 25 and 26 in Pryor, Oklahoma, featuring Guns N'Roses, Bush, Papa Roach, Alice in Chains, Korn, Golden State, Cheap Trick and many more. Over 75,000 tickets have already been sold. Go to http://www.rocklahoma.com to learn more.
Christina Tobin, founder and president of Free & Equal, will introduce Golden State and speak briefly about Free & Equal and the mission to end the two-party stranglehold.
Sponsoring Rocklahoma is a powerful opportunity for Free & Equal to reach out to young people. Honest musicians dedicated to powerful and positive messages are crucial to ending the two-party stranglehold. The unifying power of music can overcome partisan bickering and pointless division. With unity, we can overcome partisan politics and move towards true freedom.
At Rocklahoma, Free & Equal will continue to use music to inspire young people to work together and move towards prosperity and peace for all.