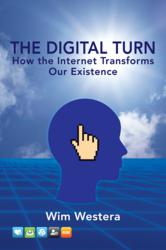 Amsterdam (PRWEB) May 06, 2013
As the world becomes more digitized through constant Internet connection and new technology, the conditions of life are radically changing. In The Digital Turn, Wim Westera, a professor of digital media at the Open University of the Netherlands, explains how to prepare for living in a world dominated by technology and digital media.
"We seem to take emerging media for granted and eagerly adopt these without being aware of the radical changes they produce," said Westera. "We have to make sure that we keep in control of the media we use instead of being controlled by them."
Westera emphasizes the importance of learning about mediated communication and theories on how this kind of communication affects personal perceptions, behaviors and the way people understand the world around them. In order to adapt to this changing digital world, individuals must learn to understand the rules and mechanisms of digital media.
According to Westera, the constant connection to different forms of media like social media sites and the Internet through mobile devices is leading many people to lose their ties with reality. As the world looks more and more like a video game, people are less likely to realize how seriously their perceptions are being affected by mediated communication.
"Living in a mediated reality changes the way we view reality, changes the way we interact with other people, and greatly influences our activities and behaviors," said Westera. "We should exploit the resilience of our cognitive system that helped us so much in the course of evolution, and adapt it to the requirements of the digital age."
For more information, visit http://www.thedigitalturn.co.uk.
The Digital Turn
By Wim Westera
ISBN: 978-1-47725-033-4
Softcover retail price: $19.76
E-book price: $3.99
About the author
Wim Westera is a full professor of digital media at the Open University of the Netherlands and holds a PhD in physics and mathematics. Having been trained at the BBC, he created dozens of TV programs and documentaries. Since the nineties, he has been involved as a researcher and practitioner in educational simulation, multimedia, and technology-enhanced learning.