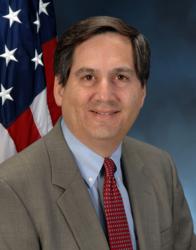 I care deeply about the cause of legal education and about this institution, which has produced leaders for social justice in our courtrooms and communities locally, nationally, and internationally.
San Francisco, CA (PRWEB) May 03, 2013
John Trasviña, Assistant Secretary for Fair Housing and Equal Opportunity in the U.S. Department of Housing and Urban Development, has been appointed dean of the University of San Francisco School of Law, effective June 17. Assistant Secretary Trasviña succeeds Jeffrey S. Brand, who is stepping down after 14 years to return to the faculty.
"As one of the nation's leading civil rights advocates, Assistant Secretary Trasviña brings to this position a unique combination of executive management experience, fundraising acumen, institution building skills, and strong relationships with legal, business, and government leaders both locally and nationally," USF Provost Jennifer Turpin said. "Underlying all of his work is a deep commitment to public service, education, and social justice. I am confident that his proven track record of successful organizational change and revitalization will serve the law school well as it begins its second century."
Assistant Secretary Trasviña has served in the Obama administration since 2009, when his nomination was unanimously confirmed by the Senate. He leads more than 580 employees in 43 offices across the country to enforce the nation's fair housing laws. Previously, he served as President and General Counsel of the Mexican American Legal Defense and Education Fund (MALDEF), where he oversaw six litigation and policy offices across the country, expanded services, and significantly increased fundraising efforts.
Assistant Secretary Trasviña began his career as a Deputy City Attorney in San Francisco in 1983 before joining MALDEF in Washington, D.C., as a legislative attorney in 1985. He later worked for U.S. Sen. Paul Simon as General Counsel and Staff Director for the U.S. Senate Judiciary Subcommittee on the Constitution. In 1997, President Bill Clinton appointed Trasviña Special Counsel for Immigration Related Unfair Employment Practices. In that capacity, he led the only federal government office devoted solely to immigrant workplace rights and was the highest ranking Latino attorney at the U.S. Department of Justice.
A graduate of Harvard University and Stanford Law School, Assistant Secretary Trasviña has also taught Immigration Law at Stanford Law School and was Director of the Discrimination Research Center in Berkeley.
His ties to communities in the Bay Area and beyond run deep: he was a member of the San Francisco Elections Commission, president of the Harvard Club of San Francisco, and a board member of the La Raza Lawyers Association, Latino Issues Forum, Campaign for College Opportunity, Lowell High School Alumni Association, and Pacific Coast Immigration Museum.
"I have been highly impressed with everyone at the USF School of Law and it is a tremendous honor to be called on to lead the team forward," Trasviña said. "It is an exciting opportunity to train the next generation of lawyers and to serve San Francisco and the greater community as the law school begins its second century. I care deeply about the cause of legal education and about this institution, which has produced leaders for social justice in our courtrooms and communities locally, nationally, and internationally."