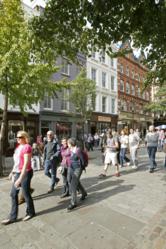 We are very pleased to have secured MAC as a tenant and the new letting enhances Lothbury Property Trust's holding in Covent Garden.
London,UK (PRWEB UK) 7 May 2013
Lothbury Property Trust owns 25 – 31 James Street, a parade of seven retail and office units on a prime pitch with exceptionally strong retailer demand, which is reflected in the Zone A rent of £730 per sq ft for the MAC unit.
This asset is Lothbury's flagship retail holding and was Lothbury's largest weighted contributor to total return for 2011 and 2012. On one of London's busiest retail thoroughfares in the heart of Covent Garden, the units have 100% occupancy and the current retail tenants include The Body Shop, Dune, Fossil, Swarovski and Michael Kors. Throughout their ownership, the Lothbury fund management team has actively targeted these assets to realise premium rental levels.
27 James Street comprises 2500 sq ft and MAC has taken a 15 year lease with three yearly rent reviews. The unit is currently undergoing fit out, with a completion date in early summer expected.
Mike Toft, senior fund manager and director of Lothbury Investment Management, said: "We are very pleased to have secured MAC as a tenant and the new letting enhances Lothbury Property Trust's holding in Covent Garden. The rent achieved underlines the current rental tone of the area and reflects the healthy competition for retail space. MAC is a great addition to the tenant line up on James Street and is a new and welcome brand in the Lothbury portfolio."
Cushman & Wakefield acted for Lothbury Investment Management and Michael Horwitz acted for the tenant.
ENDS
Notes to Editor
· Lothbury Investment Management Limited (LIM) is an independent investment manager of property unit trusts
· LIM was formed on 1st June 2010 following a management buy out (MBO) of the KBC Asset Management (UK) Limited business
· The MBO was led by Chief Executive, Simon Radford in conjunction with his four-strong management team
· LIM has already grown since the launch of the new business from £810 million to £1.020 billion assets under management as at Q4 2012
· The LIM Senior Fund Management team has worked together for the last 12 years and were previously responsible for the management of unlisted property funds at Gartmore Asset Management before joining the KBC Group in 2004
· LIM has two core funds, Lothbury Property Trust and The European Property Fund, providing investors with access to the UK and European property markets, as well as The Clarendon Unit Trust, The Secure Income Portfolio and one multimanager mandate for property funds
· Lothbury Property Trust, the flagship fund is a balanced property unit trust providing exposure to the office, retail and industrial sectors and is geographically spread across the UK. The Fund delivers an innovative investment solution through a core/active strategy that comprises a predominantly core portfolio of prime assets to achieve stability of return combined with active management initiatives to create additional value and an enhanced return for the investor
· As at 31 December 2012 LPT holds £735.6 m of assets under management. It is an open-ended, ungeared fund that remains open to investment and has met all subscription and redemption requests without suspension or delay
· LPT has continued to outperform during 2012 and as at Q4 2012 the Fund recorded a quarter outperformance of 0.70% against the IPD Pooled Property Fund Indices, All Balanced Property Funds Index Benchmark of 0.40%; the Fund is outperforming over Q4, 1, 3, 5 and 10-year periods
· More information on LIM and LPT can be found at http://www.lothburyim.com.