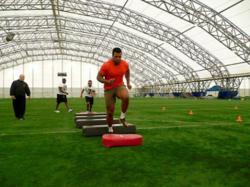 San Francisco, California (PRWEB) May 05, 2013
Olympic Discus thrower Lawrence Okoye says he has no limits on himself, as he has just signed to play football with the San Francisco 49ers. Although he has never played football before, he thinks he can work hard enough to make an impact in the NFL. The 49ers signed Okoye, who is 21 years of age, as an undrafted free agent and plan to train him to become a defensive lineman. Okoye is a British athlete, standing at 6'6" tall and weighing in at 304 pounds. He amazed the scouts at the super regional combine in April, as he ran the 40-yard dash in 4.78 seconds. He also posted remarkable results in the vertical jump and broad jump. He knows he has the confidence to work very hard and succeed in football. He started throwing discus at age 18, and then at 21 qualified for the finals at the 2012 London Olympics. He also played rugby as a teenager. Be sure to go to http://www.49ers-Tickets.net to continue reading up on how this incredible story pans out.
Inside Track Tickets, the highly-regarded ticket marketplace, has launched 49ers-Tickets.net for fans to buy tickets to their favorite NFL team, the San Francisco 49ers. This site is the newest ticket retail site featuring one of the largest supplies of 49ers tickets. At 49ers-Tickets.net, fans can not only purchase 49ers tickets, but they can also read the 49ers blog and use the multiple social media sites for fan interaction. http://www.49ers-Tickets.net features team news, player updates, as well as videos, pictures, and more. Go to 49ers-Tickets.net to buy tickets for your dream seats and share your experience with your friends.