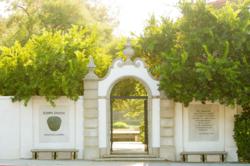 Claremont, CA (PRWEB) May 03, 2013
Scripps College's Isabella Hendry '14 and Stacy Wheeler '13 are among the approximately 610 undergraduate and graduate students to receive a U.S. Department of State Critical Language Scholarship to study Arabic this summer. Hendry will visit Morocco and Wheeler will travel to Oman.
"I've been trying to get back to the Middle East ever since studying abroad in Morocco my junior year. The Arabic program in Claremont has given me an excellent foundation in grammar and vocabulary, and this will help me develop my listening and conversational skills," says Wheeler, a senior majoring in philosophy, politics and economics. Wheeler, who is from Anchorage, Alaska, aims to work for an international non-governmental organization.
The academic program is part of the U.S. government's effort to dramatically increase the number of students mastering critical foreign languages. The scholarship offers participants several weeks of fully-funded intensive language instruction and structured cultural enrichment experiences in the Middle East.
"I'm looking forward to reaching that next level of proficiency with intensive language classes and I'm excited about learning to communicate in the local dialect," says Hendry, a junior majoring in foreign languages (Spanish, Arabic and French) and minoring in Middle East and North Africa studies. Hendry is from Atlanta, Ga.
The Council of American Overseas Research Centers and the American Councils for International Education oversee this program, one of several supported annually by the U.S. Department of State's Bureau of Educational and Cultural Affairs. For more information about this scholarship, please visit: clscholarship.org or exchanges.state.gov.