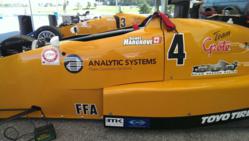 (PRWEB) May 05, 2013
As part of a talented group of racers under the BGR Team Grote awning during the season-opening doubleheader at Canadian Tire Motorsport Park, current USF2000 Championship points leader Hargrove and second-year USF2000 driver and former F1600 Championship front-runner Kellett will partner with full season F1600 Championship racers Zach Robichon and Jason Bedasse. The 18 year-old Hargrove, who hails from British Columbia and continues to be supported by Analytic Systems and raceenergy will be making his series debut seeking to make an immediate impact. The 19-year-old Kellett, who is supported by K-Line Insulators, rejoins the squad he started his junior formula car career with, ready to add to his ever-growing resume.
"We couldn't be happier to put this all together for our team and drivers," stated team principal Brian Graham. "Scott is certainly riding an incredible wave of success right now, and we believe that further success will come quickly. Dalton always has a spot on our team and is a pleasure to have around. His breakthrough in USF2000 is coming soon. Our entire team is eager to get at it and showcase some of Canada's top young drivers."
In addition to taking part in the first two races of the Ontario-based F1600 Championship, both Hargrove and Kellett will also be joining the team for the Montreal Grand Prix weekend in the F1600 support races.
With the addition of the two talented drivers, the team is very excited to add to the long list of winning drivers who have at one time or another made BGR their home.
Robichon, Bedasse, and Hargrove will pilot the teams Piper DF5/Honda's, while Kellett will drive the teams sole remaining Van Diemen/Ford.
The Toyo Tires F1600 Championship kicks off this coming weekend (May 4-5), with the promoters test day Friday at Canadian Tire Motorsport Park starting things off.