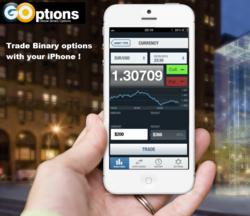 In our pursuit of constantly pushing the capabilities of our customers, we felt that creating a powerful app that would enable the trader was a necessary first step.. But a first step of many.
(PRWEB) May 06, 2013
GOptions has announced that it is launching a proprietary iOS app for binary options trading on May 1st. Anticipation is very high for the app as the brokerage, being one of the largest in the world, looks to push the boundaries of what's available for traders. Till now, binary options traders were forced to use trading platforms using a browser. But no longer is that required seeing as how the broker is launching a state of the art application that will allow traders to:
1. Open new trades
2. See their open positions
3. See Closed trades
4. Choose default trading parameters
Each of these is unique in its own right. Not just because each function is new to the iOS platform but also because many of the functions were introduced to provide traders an even better trading experience trading via the iOS as compared to even HTML-based platforms.
Opening trades, for example, has become much more streamlined. Instead of choosing from amongst tens or even sometimes hundreds of assets, the trading platforms breaks down the choices into categories making it easy to search for the asset traders most want to trade.
Once opened, the trader can avoid flipping between screens and losing his or her place by clicking the "open trades" tab at the bottom of the app which provides easy accessible information about all open trades. All too often, cumbersome HTML platforms don't show all of a traders' open trades on the trading screen. Instead, the app user need only shift focus from the trading to a reports section. So this represents a break from convention as the technology allows traders to keep their place and not lose valuable time in information gathering between trades.
GOptions really took things to the next level with the way the settings work. Today, binary options traders need to set up their screen before each and every trade using HTML-based sites. As the platforms run on HTML, there's no easy way to trading settings such as trade size or even default asset. The new app provides the trader the incredible ability to choose the asset in advance as well as the default trade size, something unavailable anywhere online for binary traders yet is probably the biggest pet peeve of theirs.
All in all, it's shaping up to be the single strongest mobile trading app online today. Binary options traders will be clamoring to get it while Android users will not need to wait long. But more on that another time.
For more details, please visit us at http://www.goptions.com/iphone.