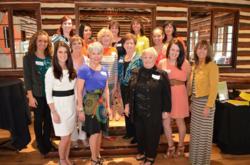 Giving locally continues to be part of our company's culture.
Denver, Colorado (PRWEB) May 07, 2013
CliIntel (http://www.cliintel.com) was a sponsor of the recent Annual Taste of Tri Delta, an evening that benefitted Colorado Children's Hospital's Center for Cancer and Blood Disorders. Hosted at the Inn at Hudson Gardens in Littleton, the event included a silent auction, and welcomed approximately 150 guests, raising over $10,000.
CliIntel employee, Melissa Yurash, a Tri Delta alum, got her company involved in the fundraising event. CliIntel is no stranger to supporting causes that are important to its employees and was recognized in December 2012 by a Denver company for rallying around its employees to give back. In the past, they've supported St. Jude Children's Research Hospital, the Children's Burn Camp, and the Cancer League of Colorado's 'Over the Edge' program.
"Giving locally continues to be part of our company's culture," commented CliIntel CEO, Richard Batenburg, "And it makes it that much more meaningful when we can get behind our employees to help support the causes they are most passionate about."
About CliIntel
CliIntel delivers business intelligence methodologies and software that help companies in cable, telecommunications, retail and utilities verticals identify and execute improvements in operations, customer care, supply chain and marketing. CliIntel's proprietary engineering methodology, INSIGHT™ helps companies recognize and implement improvements that positively influence every aspect of their business. IGNITE™ is CliIntel's business intelligence solution, which allows businesses to drive strategic initiatives and precisely measure impact. The company is headquartered in Denver, Colorado. For more information, visit CliIntel.com.