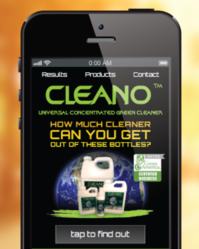 The new website stays true to its product's mission of conservation and efficiency.
(PRWEB) May 06, 2013
Over the past 18 months, Cleano has been quietly being passed around among a small customer base, and consistently has shocked people with how effective it is at cleaning almost any surface. Part of their surprise comes from Cleano's yet relatively unknown status, but even more so due to the fact that the powerful solution is also extremely environmentally safe, containing no harmful chemicals.
As the word-of-mouth about Cleano's ability to clean anything from table-tops and windows to industrial rigs and helicopters spreads, the Cleano team decided it was time to spread the word about this VOC-free (volatile organic compounds) cleaning juggernaut. That is why the Cleano team turned to FiddleFly.
Based out of Columbia, MD, FiddleFly is a digital creative agency focused on using a mobile-first mentality to create better communication and interactions on the web. As the results of Cleano speak for themselves, FiddleFly was tasked with bringing an efficiency and simplicity to the mobile exploration and purchase process.
The new website (which is actually flexible enough to work fluidly on mobile, tablet, and desktop) stays true to its product's mission of conservation and efficiency. In a single-page layout, the site offers details on the cleaner, easy outlets to purchase the solution in different quantities, links to contact Cleano's team, and even an outlet to become a reseller.
The Cleano team takes a unique approach in its delivery methods as well, also aimed at conservation. Rather than a business model of shipping massive quantities to retailers, the company opts to ship smaller, extremely concentrated quantities directly to individual recipients thus reducing environmentally damaging excess packaging and energy costs. This of course goes hand-in-hand with the stripped-down, concise nature of the mobile-first digital approach.
To see the site and learn more about Cleano, visit cleano.net, and to contact FiddleFly to discuss a unique solution to a digital campaign, simply visit fiddlefly.com/partner.