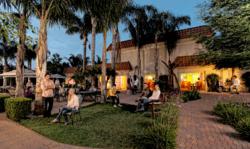 "We've helped countless young people get their lives back on track, by facilitating the healing process and addressing the underlying issues that drive them back to addiction." - Pax Prentiss
Malibu, CA (PRWEB) May 07, 2013
Researchers at UCLA published the results of a study that appears to show evidence of the greater severity of meth problems among adolescent girls when comparing the drug test results of boys of a similar age.
The study was initially intended to analyze the effectiveness of the prescription drug bupropion as a method of treating meth addiction. Bupropion is also known by its brand name Wellbutrin and has been used as an antidepressant, as well as a smoking cessation aid.
Throughout the course of the study, the 19 subjects were given either bupropion or a placebo to aid in their methamphetamine addiction treatment. Boys from both groups provided samples that turned up far fewer positives after being tested for meth. The average age of those participating in the study was 17.5 years.
Also referred to as crystal meth or speed, methamphetamine is a growing problem in the US and is generally manufactured using household chemicals, or relatively easy to find ingredients, making the popularity of the substance difficult to contain.
"Crystal meth is a problem for both younger and older people across the US," said Pax Prentiss, CEO of Passages Addiction Treatment center. "Since we opened the doors of our Malibu facility in 2001, offering treatment for methamphetamine usage has been an ongoing effort. Our Ventura location, which opened in 2009, also provides consistent care for meth addiction. We've helped countless young people get their lives back on track, by facilitating the healing process and addressing the underlying issues that drive them back to addiction."
At Passages Malibu - Addiction Ends Here™
About Passages Malibu & Passages Ventura:
Father and son team Chris and Pax Prentiss founded Passages Malibu in 2001. Its second location, Passages Ventura, first opened its doors in 2009. The two drug & alcohol abuse treatment centers offer an alternative to the 12 step/AA model of addiction treatment by utilizing a holistic program that focuses on the underlying issues of substance dependency, rather than attributing addiction to an incurable disease.
Both Passages Malibu and Passages Ventura accept insurance and each have earned the coveted Joint Commission (JCAHO) accreditation, which has only been given to 6% of the nation's behavioral health treatment programs.
Passages Malibu was named the #1 treatment center in the world by Healthcare Global, one of the "Most Luxurious Places to Dry Out" by Forbes magazine, and the Huffington Post recently acknowledged Passages as a center that "caters to a high-end crowd, with many CEOs, entrepreneurs and high-powered professionals among its clients."
The co-founders are also authors of an acclaimed series of addiction treatment books, including their groundbreaking, flagship title, The Alcoholism & Addiction Cure.
For general inquiries about treatment, contact: 866-233-1753.
For media inquiries, contact:
press(at)passagesmalibu(dot)com