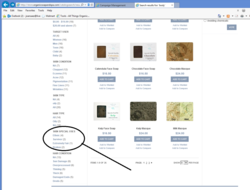 Consumers can search for products based on survivor input and feedback
Boulder, CO (PRWEB) May 09, 2013
Organic Soap and Spa has launched a new feature on their retail level website: store.organicsoapandspa.com which has a very unique use. It can help cancer victims decide which products are especially designed with their needs in mind. Here's how it works:
Search any word, product type, anything at all. A navigation system comes up on the left hand side of the page. One of the option boxes is Special Skin Issues. Items using your search term that are appropriate for those with special issues related to cancer are identified in a check box. The consumer can click on that link and immediately go to these products.
The criteria for a product to be eligible to be for this designation was developed based on a number of things, such as customer feedback and involvement in product selection and a very stringent look at ingredients. "Since we are an all-organic manufacturer of bath and body products, we've had a base of customers that have come to us looking for products that meet their specific needs since we opened our first store in 2006. And, of course we listened. Some came to us with lists from their doctors. So we started there."
The most common product that survivors were looking for? "Moisturizers first, to treat extremely dry skin. And then shampoo and especially conditioners that are phthalate, paraben, preservative and basically chemically free. No dyes, no perfumes. And no soy. We even changed our source for organic cocoa when we found out some processors used lecithin, a soy based ingredient, to make the cocoa." Says owner Joan Torres-Saez. "We're completely soy free across the product line, now and we've always been phthalate, paraben, preservative, dye and perfume free."
In addition to the search feature, every product has a check box called "Special Skin Issues". Consumers can select any product, click on "Additional Features" and scroll down to see if that product has been marked "Survivor". "We're not looking to overstate this, but we do want to give those consumers who have a need, access to this information easily and without a lot of fuss. We received a lot of questions about specific ingredients related to this, so we wanted to make it easy upfront to help consumers decide."
Breast cancer has personally touched the life of Torres-Saez. "My aunt passed, and another close family member is currently in chemo. It's the most awful disease. Whatever we can do to be more sensitive to the issue, to help during this frightening and vulnerable time… well, I mean, what wouldn't you do?"
Organic Soap and Spa is a manufacturer and distributor of fine organic bath and body specializing in products with science-based efficacy. Their product line is developed in house and never uses "boutique" manufacturing or formulators which enables them to control the ingredients and quality of their products. They have been featured in the Oscars' Goody Bag and support celebrity charity events. Check with your local natural grocer or contact Organic Soap and Spa http://store.organicsoapandspa.com for more information about any of their products.