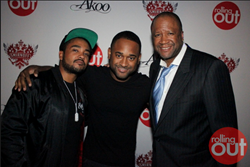 DJs expressed gratitude because of the rarity that such a forum and platform...
Atlanta, GA (PRWEB) May 06, 2013
rolling out and Smirnoff hosted the inaugural "Salute to Atlanta's Dopest DJs Awards and DJ Battle" on Tuesday, April 30, 2013 at Sugar Hill in Atlanta's Buckhead community. The DJ music competition presented an opportunity to recognize the city's leading DJs deemed key influencers in the nightlife culture.
"A herd of ready-to-battle deejays, along with music aficionados, packed out the cavernous club in a scene reminiscent of Smirnoff's 'Master of the Mix' as the city's most renowned turntable titans tussled on wax to determine who reigned supreme. Before the evening popped off, many of the DJs expressed gratitude because of the rarity that such a forum and platform was provided for them to showcase their skills and shine in an audience's adulation," offers Jana Hicks, rolling out's editor-in-chief.
Award winners included DJ Baby Yu, DJ Jaycee, DJ Tayroc, DJ Tehnology, DJ Mami Chula, DJ Kemit, DJ Cowboy, DJ Nabs, DJ MLK, DJ Spinz (HoodRich DJs), DJ Ant Love, DJ Quest (Hittmenn DJs) and DJ Jaycee nabbed the "DJ Battle Award."
Gift bags were provided by Akoo Clothing.
Visit rolling out to see exclusive photos of the "Salute to Atlanta's Dopest DJs Awards and DJ Battle" award winners, the DJ Battle winner, video footage of the DJ Battle and more.
About rolling out
rolling out, the nation's largest free urban weekly, is a digital and print magazine that focuses on the black experience in response to entertainment, politics, fashion, culture, sports and lifestyle points of interest. Headquartered in Atlanta, rolling out is positioned as the voice for the African American experience, using its newspaper as a platform in the marketplace to express urgency for education reform, and to document entrepreneurial endeavors and other relevant issues in the Diaspora. For information on rolling out, please log on to rollingout.com.
About SMIRNOFF
SMIRNOFF, the world's number-one selling premium spirit and the top-selling flavored vodka in North America, traces its heritage back to 19th century Russia, and the brand was revived in the United States in 1934. In a January 2005 New York Times blind taste test of 21 world-class vodkas, SMIRNOFF was named its "hands-down favorite." SMIRNOFF has always been known for quality vodka and is enjoyed responsibly in 130 countries around the world. For more information, log on to http://www.SMIRNOFF.com.
About Diageo
Diageo (Dee-AH-Gee-O) is the world's leading premium drinks business with an outstanding collection of beverage alcohol brands across spirits, beer and wine. These brands include Johnnie Walker, Crown Royal, J&B, Windsor, Buchanan's and Bushmills whiskies, Smirnoff, Ciroc and Ketel One vodkas, Baileys, Captain Morgan, Jose Cuervo, Tanqueray and Guinness.