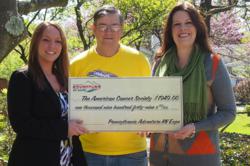 Altoona, PA (PRWEB) May 03, 2013
The 2013 Pennsylvania Adventure RV Expo held February 21st thru the 24th at the Blair County Convention Center donated a portion of its proceeds to The American Cancer Society. To date, the Pennsylvania Adventure RV Expo has donated in excess of $26,860.
"It's great to see the number of people that come out to the show each year from all over Pennsylvania," said Tom Baker from The American Cancer Society. "Our team members love working the show each year; in fact, they jump at the chance when we ask for people to sign up."
The Pennsylvania Adventure RV Expo is an annual event showcasing some of the largest RV Dealers in PA. Those in attendance can browse through a variety of RV makes and models and talk to area campground leaders to get a jump start on summer fun and vacationing. The event will again be held at the Blair County Convention center in March of 2014.