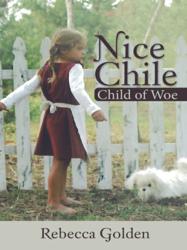 Tallahassee, Fla. (PRWEB) May 05, 2013
Family secrets have the power to hold people back and alter the course of history. In Nice Chile by Rebecca Golden, a young girl named Nicie attempts to solve the riddles about her family's history in order to find her true identity.
Taking place in the slums of Savannah, Ga., Nicie's journey begins in the early 1920s and flashbacks to her family's history in the days of slavery in the 1840s. As Nicie struggles to overcome the sense of longing for her absent parents and the pain of being unwanted, she meets an unexpected friend who soon helps her unlock the mysteries of her identity.
Golden was inspired to write this book because of her father's gift for storytelling. Even though he only had a seventh grade education, he was often called upon to teach classes or preach in the pulpit when the preacher was absent.
"I always enjoyed listening to older people who lived in poverty and never complained," said Golden. "My father told stories about the struggles of the people of his generation and they gave me the idea for this book."
Nice Chile
By Rebecca Golden
ISBN: 978-1-47596-328-1
Softcover retail price: $15.95
Hardcover retail price: $25.95
E-book price: $3.99
Available at http://www.amazon.com, http://www.bn.com and http://www.iuniverse.com.
About the author
Rebecca Golden was born in Clewiston, Florida, and later moved to southern Georgia, where she grew up part of a musical family that spurred her love of songwriting. Now retired after a career with the state of Georgia, Rebecca currently resides with her husband, John, in Thomasville, Georgia, where she spends her days writing.