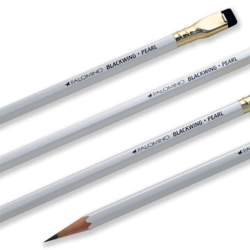 The Blackwing Pearl, a white version of Palomino's iconic Blackwing pencil, is now available at Pencils.com.
Stockton, CA (PRWEB) May 06, 2013
Palomino's newest luxury pencil, the Blackwing Pearl, is now available at Pencils.com, the Internet's leading resource for high-quality pencils, journals and notebooks. After weeks of announcements, previews and reveals, the luxury pencil can now officially be purchased by the general public.
The Blackwing Pearl features a lustrous pearl white finish, black imprint and eraser, and a balanced and smooth graphite core that is softer than the graphite found in the Palomino Blackwing 602, but firmer than the graphite found in the Palomino Blackwing.
Pencils.com launched in 1999 as a learning resource for teachers and students, but has evolved into one of the largest online pencil retailers in the world, emphasizing high-quality pencils, notebooks and accessories from some of the world's most popular brands, including Palomino, Faber-Castell and Moleskine. The addition of the Palomino Blackwing Pearl further establishes Pencils.com as the premiere destination for artists, writers, musicians and pencil fans looking for high-quality creative tools.
Pencils.com and its online blog "Studio 602" are dedicated to giving customers the information and tools they need to unleash their creativity. Pencils.com is a business unit of California Cedar Products Company, the world's leading manufacturer of wooden pencil slats.