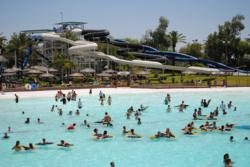 In Tempe, there are plenty of options for cool summer fun for the whole family from waterparks to soccer games to exploring the ocean world.
(PRWEB) May 06, 2013
They say it's a dry heat in Arizona.
That's true, but still, the best way to enjoy summer in Arizona is to find ways to cool off. In Tempe, there are plenty of options for cool summer fun for the whole family from waterparks to soccer games to exploring the ocean world. And, as the temperatures rise in the summer, rates at Tempe hotels are low, making it easy to plan an affordable vacation. For information about all there is to see and do, visit the Tempe Tourism Office website or call 800-283-6734.
Nothing says summer in Tempe like the opening of Big Surf Waterpark, home of America's first wave pool. Beginning on May 4, Big Surf Waterpark will be open on Saturdays and Sundays through May 19. The Waterpark is then open every single day from Saturday, May 25 through August 4, the Saturday and Sunday-only schedule begins again from August 10 through September 29. Zoom down slides like the White Serpentine and the Black Hole, soak up the sun on Waikiki Beach or splash with the smallest swimmers at Captain Cook's Landing. Surfing and boogie boarding sessions are also available daily. To celebrate their season opening, everyone who brings in at least five non-perishable food items for St. Mary's Food Bank Alliance will receive 50 percent off of general admission ($27.95) the first three weekends in May.
On May 10, SEA LIFE Arizona Aquarium is opening a new exhibit featuring the largest collection of jellyfish in the state. With six species, Jellyfish Discovery gives guests to the aquarium the opportunity to discover these strange and mysterious creatures. The exhibit will house moon jellyfish, white spotted jellyfish, compass jellyfish, Pacific sea nettles, lagoon jellyfish and blubber jellyfish. In total, SEA LIFE Arizona will display approximately 40 of the graceful creatures. The jellyfish will be on display through the end of 2013. SEA LIFE Arizona Aquarium is home to more than 5,000 sea creatures, including sharks, stingrays, seahorses and sea turtles, in more than 30 display tanks.
Golfland/Sunsplash features more than 25 rides and attractions making it an ideal place to spend a sunny summer day. Sunsplash, the waterpark, will open on May 11 for the season. Ride the waves in the 450,000 square foot Thunder Bay Wave Pool, take an exhilarating trip down slides such as the Sidewinder Half Pipe or take the little ones to the children's play area.
Splash Playground at Tempe Beach Park opens on May 11. It will be open daily from 10 a.m. to 7 p.m. Splash Playground features waterfalls, pop up fountains, a slide, streams, toy whales and many more ways to have a watery good time. Admission is free.
Sports fans are also in luck this summer. The Phoenix FC Wolves are now playing professional soccer at the Sun Devil Soccer Stadium in Tempe. The team will play through August 2013, joining the USL PRO's Los Angeles Blues as the two premiere Western franchises with a team made up of international and local players. Single tickets begin at $9.
The Tempe Tourism Office is the best source for information about local summer activities. For more ideas, including special offers, shopping options, outdoor fun, museums and other attractions, visit the Tempe Tourism Office at http://www.tempetourism.com/summer or call 800-283-6734.
About Tempe Tourism Office
The Tempe Tourism Office is a non-profit organization devoted to marketing Tempe, Arizona as a desirable visitor and group destination site. The Tempe Tourism Office's mission is to provide visitors, media professionals and meeting planners with information on Tempe hotels, Tempe restaurants, Tempe entertainment and local points of interest. To learn more about Tempe, Arizona please call 480-894-8158 or 800-283-6734 or visit our website.
###