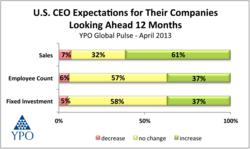 Despite positive economic developments in the first quarter, mitigating factors including mandated cuts in government spending are keeping business confidence from breaking out of its nine-month holding pattern. – Alan Zafran
Dallas, Texas (PRWEB) May 07, 2013
The YPO Global Pulse Confidence Index for the United States was essentially unchanged for the third straight quarter, declining one-tenth of a point to 60.9 in the latest poll of U.S. CEOs. Since July 2012, the index has moved within a narrow 1.9-point range, between 59.1 and 61.0. These results suggest that U.S. CEOs expect the economy to continue expanding at a moderate pace.
The April survey results were announced today by YPO (Young Presidents' Organization), a not-for-profit global network of 20,000 chief executive officers. The YPO Global Pulse is the only CEO economic sentiment survey to span the globe on a quarterly basis, capturing answers from nearly 1,700 CEOs representing companies of all sizes around the world, including more than 700 in the United States.
Key findings
Construction sector brightens while manufacturing dims. While sales forecasts over the next 12 months changed little in the first quarter, differences by sector emerged: construction companies raised their outlooks while those in manufacturing trimmed theirs slightly. The percentage of construction-sector CEOs forecasting increased sales over that time period rose 7 percentage points to 62%, and the number expecting sales declines shrank to 12% compared with 17% last quarter. In contrast, just under half (49%) of manufacturing CEOs expected increased sales over the next 12 months, down from the 55% who said so in January. The percentage expecting sales declines climbed to 10%, up from the 7% who said so last quarter. Sales outlooks in the services sector didn't change significantly in the first quarter: 65% expected to increase sales, virtually unchanged from the January survey.
Large companies trim forecasts while small companies revise upwards. Differences by company size also emerged within the sales confidence component of the index, with the downward revisions to sales forecasts among large companies (more than 500 employees) offsetting the upward revisions among small companies (less than 100 employees). In the April survey, less than half (48%) of large-company CEOs expected sales to increase by 10% or more over the next 12 months, down from the 59% who had this expectation in January. Conversely, among small companies surveyed, 72% forecasted sales growth, up from the 66% who reported the same thing last quarter. Mid-size companies were in the middle: 56% projected sales growth, down marginally from 59% in January.
Employment and capital spending forecasts stay flat. The movements in sales expectations by sector and company size had little effect on employment and fixed investment plans. There were only marginal adjustments to hiring and capital spending projections over the next 12 months among companies in all sectors and all sizes. The YPO Employment Confidence Index for the United States edged down just 0.1 point to 59.2, and the fixed investment component of the index dropped just half a point to 59.4.
Commentary
"Despite positive economic developments in the first quarter including stock market gains and housing sector expansion, mitigating factors including the 2% increase in Social Security tax and mandated cuts in government spending are keeping business confidence from breaking out of the holding pattern it's held for nine months," said Alan Zafran, managing director of California-based investment adviser Luminous Capital, a division of First Republic Investment Management, and a member of YPO's Global One Chapter.
Stephen Slifer, YPO Global Pulse economic adviser and chief economist at NumberNomics, said, "While retail sales slowed moderately in the first three months of this year and the March employment gain was anemic, evidence of a meaningful slowdown is elusive. Nevertheless, the survey results indicate that CEO enthusiasm remains tempered – there seems to be a lingering fear that there is another shoe waiting to drop."
Global results
After rallying more than 2 points in January to 61.3, the YPO Global Pulse Confidence Index registered a slight decline to 60.4 in April, suggesting that CEOs expected global GDP growth to continue at a moderate pace. Of the nine regions of the world, four landed above the global composite index: Africa (67.3), Asia (64.2), non-EU Europe (60.5) and the United States (60.9). The Middle East and North Africa region index increased for the first time since April 2012, to 60.3. Confidence remained lowest in the European Union, reverting to 51.4 after a 4-point gain last quarter. At 64.2, the YPO Confidence Index for Asia was virtually unchanged from last quarter, as a decline in confidence in China was offset by rising confidence in Japan.
YPO Global Pulse Confidence Index
The YPO Global Pulse Confidence Index combines CEO answers about expected and most-recent-quarter sales, employee numbers, fixed investment and business conditions. The index is centered on 50. An index reading below 50 indicates a negative outlook – the lower the number, the more negative the outlook. A reading above 50 indicates a positive outlook – the higher the number, the more positive the outlook.
Survey methodology
The quarterly electronic survey, conducted during the first two weeks of April 2013, gathered answers from 1,691 chief executive officers across the globe, including 716 in the United States. Globally, 30% of participants were from large companies (more than 500 employees), 36% from medium-sized companies (100-500 employees), and 34% from small companies (less than 100 employees). By business sector, 23% of participants were from the production sector, 9% from construction and 68% from the services sector. For more information, visit http://www.ypo.org/globalpulse.
About YPO
YPO (Young Presidents' Organization) is a not-for-profit, global network of young chief executives connected around the shared mission of becoming Better Leaders Through Education and Idea ExchangeTM. Founded in 1950, YPO today provides 20,000 peers and their families in more than 120 countries with access to unique experiences, world-class resources, alliances with top learning institutions, and specialized Networks that help them enhance their business, community and personal leadership. Altogether, YPO member-run companies employ more than 15 million people around the world and generate US$6 trillion in annual revenues. For more information, visit http://www.ypo.org. Also see us on Facebook and follow us on Twitter.