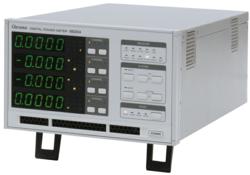 Foothill Ranch, CA (PRWEB) May 06, 2013
Chroma Systems Solutions, Inc., a leading provider of electrical power testing equipment and automated systems, announces expansion of their 66200 series of high speed, high accuracy Digital Power Meters. Newly added are three and four channel power meters designed for multiple phase power measurement applications. The meters are designed to comply with power measurement requirements in accordance to many international standards such as Energy Star ®, EN 50564, IEC 62301 and ErP.
Chroma's new model 66203 and 66204 Power Meters allow users to take accurate power measurements for various wiring modes including three phase WYE and DELTA and split phase. These power meters feature state-of-the-art DSP digitizing technology which replaces less accurate and slower traditional analog circuits. The internal 16 bit analog/digital converters with sampling rates of up to 250 kHz provide both high speed and high accuracy measurements.
The 66203 and 66204 are packaged in a 3U high, half rack enclosure suitable for bench top or system integration. The 4 channel 66204 is ideal for functional and efficiency measurements of three 3 phase grid inverters as the fourth channel may be used to measure the DC voltage, current, and power on the input side of the inverter.
The 66203 and 66204 power meters include a 2-shunt design to provide high accurate readings for both low and high current measurements and are capable of supporting external shunts and current transformers for higher current applications. The power meters also support Inrush Current, Total Harmonic Distortion of V/I, and Energy measurements. These practical functions make Chroma's new power meters ideal for meeting the demanding tasks of R&D, production and quality control departments.
The instruments include a four part display with 7-segment LED front panel readouts. Users can easily select desired parameters and readouts with a touch of a button. The 66203 and 66204 meters also include remote control using USB or GPIB interfaces via rear panel connections. Chroma provides optional software for increased operational efficiency and reporting.
The advanced graphical software package controls and captures measurement data via standard computer interfaces such as GPIB, and USB. Graphical panels are especially useful when performing industry standards testing such as pre-compliance testing of harmonic current limits to IEC61000-3-2 or Energy Star ® requirements. The software can also control Chroma's AC Sources and Electronic Loads for added ease of use. For more information on these power meters, log on to http://www.chromausa.com/powermeters.php or call us at (949) 600-6400.
About Chroma Systems Solutions
Chroma Systems Solutions, Inc. is the North American business unit of Chroma ATE, the world leader in electrical power testing instruments and systems. With offices and manufacturing facilities located around the globe, Chroma is committed to provide excellence in product, service, and innovation. Chroma Systems Solutions, Inc. is located in Foothill Ranch, CA. For more information please visit http://www.chromausa.com or call us at (949) 600-6400.