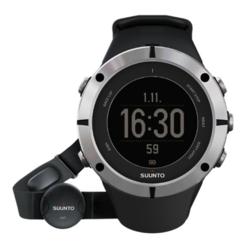 We will honor our 10% US Military discount to all members active and retired
Bozeman, MT (PRWEB) May 03, 2013
Suunto Ambit 2 has just been announced and there are three different models, two of which will be of great interest to those in the military according to the Heart Rate Watch Company.
"We will honor our 10% US Military discount to all members active and retired", says Rusty Squire, President of the Heart Rate Watch Company. He adds, "All you need to do is call our national toll-free at 866-586-7129 to get the discount code".
THREE DIFFERENT VERSIONS
Suunto Ambit 2 offers three distinct versions: the Suunto Ambit 2S, the Suunto Ambit 2 and the Ambit 2 Sapphire. "The 2S is a sports version for triathletes that has swim, bike and run features but lacks weather, track back and a barometric altimeter", says Squire.
"The Ambit 2 and the Sapphire are where the greatest interest should be for military personnel", says Squire. He adds, "These watches are burly, have twice the battery life, trackback, weather, a barometric altimeter and are more fully featured with larger memory".
AMBIT 2 and SAPPHIRE FEATURES COMPARISON
The Ambit 2 and the Sapphire are almost exactly identical from a features perspective with barometric altimeter, track back, weather and the ability to load several of the 1,000 plus apps that have been developed for the watch.
"For service people that would like to see a very complete comparison of the two watches they can just stop by the Heart Rate Watch Company blog and read our post Suunto Ambit 2 - The Ultimate Guide", says Squire.
The Suunto Ambit 2 GPS watch series is due out in early May 2013.