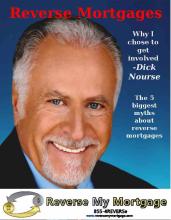 "For years I have watched seniors lose thousands of dollars through poor preparation in home equity conversion mortgages, and now I want to do something to change that." -Mark Schow, Owner, Reverse My Mortgage
Salt Lake City, UT (PRWEB) May 03, 2013
Strength in Finance:
Many seniors these days are concerned about their futures, whether immediate or long-term. As such, for those who use RMM's online reverse mortgage calculator to estimate their benefits, they are offering free financial consulting. This is above and beyond what someone would get with a typical home equity conversion mortgage consultation as it goes into deeper details regarding Social Security benefits, Medicare, etc. In this regard, RMM is providing a valuable service with all their expertise in the financial industry. *Financial consulting is currently for a reverse mortgage in Utah or HECM loan in Houston.
Maximize Your Benefits:
One important thing seniors should be aware of when looking at a potential home equity conversion mortgage or HECM is whether they are getting every dollar possible for their situation. "Something I've noticed over the years is that seniors are often pressured into a home equity conversion quote before they have time to really understand what is happening, and the broker is so eager for the commission that they miss important details that could cost their client tens of thousands of dollars," said Mark Schow, owner of RMM. This financial consulting service is something that RMM has decided to offer new clients both as a measure of client satisfaction, and as a means to help out the community. To obtain help with a reverse mortgage Utah residents may visit their Bountiful offices.
How does the program work?
Anyone over the age of 62 who owns a home and is able to reside in that home can get a home equity conversion quote from RMM. By visiting the website and entering some simple information, the homeowner will get an immediate range for potential benefits, but will also be prompted to verify their home ownership. This is all part of the standard reverse mortgage calculator which provides the same results that would be seen from using the FHA software provided by the Federal Government. For the HECM Loan Houston office, please call.
What should seniors be cautious about?
When someone is considering a HECM loan as a potential solution to a short-term or long-term financial problem, it is important to be patient and weigh things out carefully. Avoid brokers who don't have a good grasp of HECM loan regulations or a working knowledge of how it ties together with: Social Security, Medicare, and other important benefits. The key to any smart decision is taking the time to review the facts because making a hasty decision can cause a homeowner to lose thousands of dollars that they easily would have gotten if paperwork were completed properly. To learn more about the free financial consulting services offered by RMM or to use our reverse mortgage calculator, please visit: http://www.mortgagereversecalculator.com
Disclaimer: The financial consulting service is currently available for reverse mortgage in Utah and HECM loans in the Houston, Texas area.