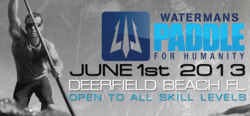 Deerfield Beach, FL (PRWEB) May 05, 2013
Paddle for Humanity is proud to announce that SUP ATX Racing's Australian team riders Lincoln Dews and Jayden Jensen will be coming to Deerfield Beach. Veteran Aussie Kelly Margetts took the field in 2012 with a spectacular finish in southern Florida, but in the wake of his retirement it will be up to the next generation of paddlers to secure the top spot.
Dews is no stranger to international competition, taking the gold medal at the International Surfing Association games on the traditional paddleboard and finishing top ten at the Rainbow Sandal's Battle of the Paddle in 2012. "I'm super excited to be coming to Florida for Paddle for Humanity," said Dews. Adding "I'm really stoked to be representing SUP ATX Racing and the Lahui Kai team." Both paddlers will be racing on the SUP ATX Racing Manta race boards, powered by Lahui Kai and designed by World Champion Paddler Mick Di Betta.
Paddle for Humanity is a philanthropic event that focuses on spreading the love of paddle sports while raising awareness and funds for charitable causes close to the heart of the paddling community. Over the past four years Paddle for Humanity has raised thousands of dollars for its non-profit partners. This year's series will raise money for the Navy SEAL Foundation, Best Day Foundation, LUNGevity, and Ocean of Hope. Participants will select the organization of their choice to receive 20% of their registration fee.
This year's event lineup will include the following locations:
• Deerfield Beach, FL, June 1st
• Minneapolis, MN, June 22nd
• Seattle, WA, July 20th
• Washington, D.C., August 31st
• Austin, TX, September 14th
• Newport Beach, CA, September 21st
Each location will feature a 5k paddle, a 10k paddle and a Rule 7 event that can include anything and everything in the name of good fun. To register for these events, visit http://www.paddleforhumanity.org, click on Events, select the event you are interested in and Register Now.
This year's Paddle for Humanity national event series sponsors include, SUP ATX, LiftSUP, Destination Surf, Watermans Sunscreen, and Futures Fins. Additional local and national sponsorship positions are available – contact paddleforhumanity(at)gmail(dot)com for more information.
Paddle for Humanity is sanctioned by the World Paddle Association (WPA).
About the Paddle for Humanity:
The Paddle for Humanity has raised more than $100,000 since its inception in 2009 and helped galvanize paddling communities across the country. The Paddle for Humanity is open to all paddle craft.