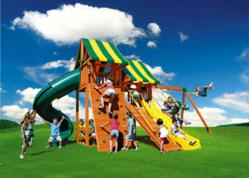 We're proud to celebrate this grand re-opening in the town we started in
Elmsford, NY (PRWEB) May 03, 2013
This location will be featuring the largest display of all products that Best in Backyards has to offer. They will be showcasing their Eastern Jungle Gym outdoor swing sets, sheds, trampolines, outdoor kitchen islands, pergolas, pavilions, gazebos, rubber playground mulch and basketball systems.
Best in Back Yards opened their very first retail location in Elmsford, NY back in 1994. In 2002 the company moved into more visible location just one block down the street. After a decade in that building sales grew and so did the demand for a bigger showroom so the search to find a new home was on.
To the benefit of Best in Backyards, they found this new location which fits them like a glove. The store is 12,000 square feet of brand new indoor retail space. This new site in Elmsford is only two blocks from their original showroom in a town that they are proud to call their first home.
Rolf Zimmerman, the Vice President of Sales for Best in Backyards and the original salesman at their first Elmsford location, says, "We are so proud to celebrate this grand re-opening in the town where we built our company roots."
Rolf is pleased to announce that the store manager at this new and improved Elmsford, NY location is Joe Deluise. Joe will run the store along with a great team of sales representatives. Joe has been with the company for over 10 years and is a very seasoned salesman who is pleasant to chat with, knowledgeable about all of the Best in Backyards products and helpful when it comes to finding exactly what the customers need for their homes.
This re-opened location is featured as the company's superstore in Westchester County, NY. They service all surrounding areas including Putnam, Rockland County and the five boroughs of New York City. The store is centrally located and easily accessible from all major highways.
Best in Backyard Retail Location: 50 Executive Blvd. Elmsford, NY 10523
Best in Backyard Operating Hours: Mon-Sat open 10-6; Sunday open 11-5; Wed closed.
For more information about Best in Backyards go to http://www.bestinbackyards.com, visit one of six locations or call 1-800-752-9787.
About Best in Backyards:
Best in Backyards is the retail arm and showroom brand of Eastern Jungle Gym, one of the leading manufacturers and suppliers of outdoor wooden swing sets. The company was founded over 20 years ago by a family with intent to manufacture high quality cedar swing sets, fit to fill any backyard and last a lifetime. The company is located in the northeastern United States with retail showrooms currently located in New York and Connecticut.