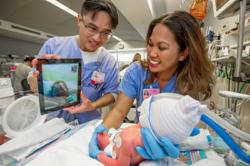 Henderson, NV (PRWEB) May 05, 2013
Almost instantly after birth, a strong connection is made between a mother and her newborn child.
However, for many new moms, that bond is not always a possibility due to the fact that many infants are taken immediately to the Neonatal Intensive Care Unit (NICU), which prevents non-ambulatory mothers from visiting with them. Luckily, one hospital in Los Angeles decided to make it a possibility for mothers to see and connect with their newborns.
Cedars-Sinai Hospital started a program called 'BabyTime,' which warrants moms to 'BabyTime' their newborns through the use of iPads. This video-chat system functions by placing one iPad outside the baby's incubator while another is given to the mother. The two are then allowed to interact up to two times a day, allowing the mother to see her baby and interact with the doctors, as well as letting the baby hear mom's voice.
Dr. Simmons, the man responsible for bringing this technology to Cedars-Sinai Hospital said, "BabyTime will help bridge communication with the family and the baby's medical team and is an excellent use of technology to help new mothers bond with their babies, even when they cannot be physically at their babies' bedside. When doctors and nurses are treating a newborn in the NICU, mom can be right there asking questions and getting updates, even if she's on a different floor."
BabyTime is just one of the many examples of how iPads have been integrated into the medical field. They had previously been used to allow patients to connect with their doctor's outside of the hospital and for visitors to meet with patients.