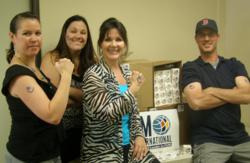 All a group has to do is tell us when and where their event will be, and we will send them a packet of the tattoos.
Tucson, Arizona (PRWEB) May 03, 2013
In the wake of the Boston bombings, employees of Tattoo Manufacturing International felt compelled to "do something" to show support for the people of Boston and those affected by the incidents of that long week.
Kristina Collins, Marketing Operations Manager for the company's Custom Division, came up with the perfect way for largest manufacturer of temporary tattoos in the world to make a difference: Create temporary tattoos to share, at no cost, with any group or organization raising funds for those affected by the events of Boston Marathon week.
Using social media to offer the tattoos to any group which posts its upcoming fundraising events on the company's Facebook page, Collins envisioned not only a way to offer the tattoos, but also a forum in which groups could share with each other the innovative things they are doing. "All a group has to do is tell us when and where their event will be, and we will send them a packet of the tattoos," she said. "Then we encourage them to post photos and stories about their efforts so they can inspire others."
Collins enlisted the support of Leah Mein, a Tattoo Manufacturing Special Projects Coordinator familiar with the design-to-distribution process for custom tattoos, to usher through the project's development. Mein conceived the image: A heart-shaped American Flag with the words "Boston Strong" framing its edges. Graphic Designer Gregg Price, who grew up in Woburn Mass., was the logical staff artist to execute the design.
Dianne Leshinski, Vice President and General Manager of the company's Custom Products Division, not only approved the project, but authorized printing 250,000 temporary tattoos to donate to One Fund Boston, the collaborative initiative created by Massachusetts Governor Deval Patrick and Boston Mayor Tom Merion. The backs of the tattoos bear the One Fund's logo and web address, meant to encourage contributions to be made to the umbrella organization.
"Everyone here was touched by the events of April 15," said Leshinski. "Tattoo Manufacturing supports many nonprofit organizations, especially those in which our employees are involved. When Kristina, Leah and Gregg approached me about this project, it was an automatic 'Yes.'"
Sponsor a Boston fundraiser:
Groups wishing to receive "Boston Strong" temporary tattoos for fundraising events, are invited to participate in the discussions on Tattoo Manufacturing's Facebook page. Please provide:

The name of the organization or group;
The type of event being hosted, and
When and where the event will take place.
Then, privately message Tattoo Manufacturing (through Facebook) the group's contact and mailing information so the complimentary "Boston Strong" temporary tattoos can be sent on their way.
Finally, groups are encouraged to come back to the Facebook page and share the details about each event, especially photos and inspirational moments.
Support One Fund Boston with a temporary tattoo order:
A percentage of the proceeds from custom and stock temporary tattoo orders placed through http://www.tattoosales.com between Friday, May 3 and Monday, May 6, will go directly to One Fund Boston.
About Tattoo Manufacturing International:
Tattoo Manufacturing, a division of TMI Acquisition LLC, is the largest manufacturer of temporary tattoos in the world. The company designs and manufactures all of its products in Tucson, AZ. Products are non-toxic, hypoallergenic, use FDA certified colorants and comply with CSPC/CPSIA and ASTM requirements. All products exceed US, Canadian and EU safety standards. The company's products have a worldwide reputation for quality. Visit http://www.tattoosales.com or call 1-800-747-8016 for more information.