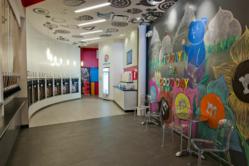 "As business owners, we feel it is imperative to help support our local community. The Chalk Art Wall is a really great platform for aspiring artists to showcase their work and inspirations," says Gregg Heubach, Off the Wall Co-Owner
NY, NY (PRWEB) May 06, 2013
Calling all local artists: Off the Wall Frozen Yogurt is looking for fresh, talented and innovative individuals to be featured in the debut of their chalk wall gallery called the "Cultured Artists Series."
Each Off the Wall location is equipped with a specialized floor to ceiling chalk wall which helps to highlight the whimsical store concept and the artful self-serve yogurt creations. Every other month, Off the Wall will feature a new chalk painting designed by a local community member; including students and artists alike. One lucky artist will win a cash prize of $2,500.00 for curating the best design.
"As business owners, we feel it is imperative to help support our local community. The Chalk Art Wall is a really great platform for aspiring artists to showcase their work and inspirations. We look at the "Cultured Artists Series" as a win-win for all parties; it will not only help elevate the customer experience at our stores, but it will offer a new level of exposure to the artists we feature," says Gregg Heubach, Off the Wall Co-Owner
The "Cultured Artists Series" will officially launch on July 1, 2013, all artists will be required to submit a sketch for consideration between May 15-June 5. The inaugural chalk series will be displayed through December 15, 2013. Off the Wall customers will have a chance to vote on their favorite artists between July-December at an Off the Wall location or through the website. At the end of each calendar year, one artist will be announced the series winner.
Artists must adhere to the following parameters:

The picture needs to be family appropriate, inappropriate images will not be considered (i.e. Curse Words, Sexual Content or Violent images)
The picture needs to represent Off the Wall but also reflect the individuals artistic style
The picture will need to have touches of the colors red and/or sky blue
The picture will need to be the size of the entire chalk wall
The entire chalk picture must be completed within 2 days
Interested parties can submit a sketch to be considered (between May 15-June 5, 2013) to artists(at)offthewallyogurt(dot)com. All selected artists will get a special "gallery" debut at one of the four Off the Wall locations in Manhattan (Union Square, Chelsea, Midtown East and Times Square *Coming Soon). Off the Wall will supply the chalk and chalk paint for the selected artists.
For more information please visit http://www.offthewallyogurt.com, photos available on request.
About The Off The Wall
Since the first store opening in 2011, Off the Wall Frozen Yogurt maintains a commitment to providing a truly unique self-serve treat experience. With 4 locations and growing, we specialize in the "art" of frozen yogurt! Each store has been whimsically designed with the customer in mind offering the freshest ingredients and 16 low-fat/ fat free flavors at each store. Our giant toppings wall encourages you to get creative and make a personal masterpiece in every cup. Our ultra-premium frozen yogurt is Kosher certified and offers probiotics (live active cultures) which help boost the immune system and aid in digestion.
Off the Wall's mission is to curate a playful customer experience from start to finish by bringing an extra element of surprise to each visit. The "Cultured Artist Series" helps to capture our vision in this! Each location features a floor-to-ceiling chalkboard wall that changes regularly, with colorful chalk paintings designed by local students and artists alike. We strive to support our community in all ways possible!
Off the Wall Manhattan Locations are open seven days a week from 11:00am-11:00pm, please inquire for Cedarhurst hours.
Manhattan-
1053 2nd Avenue
New York, NY 10022
(917) 463-0450
248 West 23rd Street
New York, NY 10011
(646) 590-4550
4 West 14th Street
New York, NY 10011
(646) 692-9099
Outside Manhattan:
590 Central Avenue
Cedarhurst, NY 11516
(516) 341-0301
For more information, please visit http://www.offthewallyogurt.com,
Twitter: @OTWYogurt
Facebook: http://www.facebook.com/offthewallyogurt
###