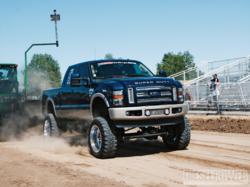 Morrison, CO (PRWEB) May 03, 2013
What:
Exclusive one day media access to the Diesel Power Challenge, the most prestigious diesel truck competition of its kind on Wednesday, May 8th, 2013
Background: Diesel Power Magazine, on a mission to find the most powerful diesel truck in the world, accepted applications from hundreds of readers all over the globe to compete in the Diesel Power Challenge competition, taking place May 7th – 9th, 2013 in Morrison, Colorado just outside of Denver. Ten drivers and three teammates each were chosen by readers to pit their modified diesel machines against each other in a three-day test that is described as the "Olympics of diesel trucks."
At last year's competition, a Chevy Silverado achieved more than 3,000 lb-ft of torque. That's more power than 4 stock diesel trucks combined.
The Diesel Power Challenge is comprised of seven stages of competition: the chassis dyno, the 1/4-mile drag race, the 1/8-mile 10,000-pound trailer tow, a timed trailer tow obstacle course, the sled pull, and the 150-mile fuel-economy drive. Each event is weighted the same, and each team must compete in all seven stages.
Fans and press will be able to track exciting content from event in real time by visiting DieselPowerChallenge.com and Diesel Power's Facebook page.
For an overview of Diesel Power Challenge, check out: http://www.youtube.com/watch?feature=player_embedded&v=nl2zRPoTmCk.
*The event is closed to the public and media can gain access to this unique event on Wednesday, May 8th only.
Who:

Ten teams (one driver and three teammates per team)
Diesel Power Challenge officials, Diesel Power Magazine's celebrated editors, writers and photographers
When:
8:30 a.m. – 3:30 p.m. on Wednesday, May 8th
8:30 a.m. Trailer Tow Obstacle Course
12:00 p.m. 10,000-pound Trailer Tow
1:30 p.m. Drag racing
Video crews may shoot b-roll at any time throughout the day.
Where:
Bandimere Speedway
3051 S. Rooney Road
Morrison, CO 80465
(303) 697-6001
Contacts:
Brandon Kline
(317) 275-2057
bkline(at)bohlsengroup(dot)com
Andy Wilson
(317) 602-7137
awilson(at)bohlsengroup(dot)com
About Diesel Power:
Diesel Power, a Source Interlink Media publication, is the first and largest consumer magazine just for diesel enthusiasts. This publication shows owners what's on the market to improve their truck's engine, transmission and driveline. Diesel Power also shows prospective new truck buyers the newest light trucks with diesel engines and catalogs their performance. Diesel engine technology, motor home engine upgrades, "diesel drags," "dyno days" and towing are all part of the package as well. For more information, go to http://www.dieselpowermag.com.
About Source Interlink Media:
Source Interlink Media, LLC is the premier source of special interest media in the United States. With more than 75 publications, 100 Web sites, 800 branded products, 50+ events, and TV and radio programs, SIM is the largest provider of content to enthusiast communities interested in automotive, action sports, marine and other niche activities. The division's strategy is to wholly focus on targeted audiences by leveraging and expanding upon its core market-leading brands through a multiplatform media approach.