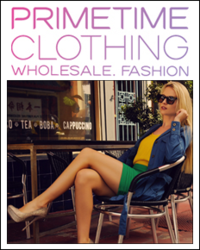 Los Angeles, CA (PRWEB) May 07, 2013
Premium fashion wholesalers PrimeTime Clothing have revamped their website, updating several features including the "Shopping Cart" function.
The new features are designed to make the user experience with the website easier and more efficient to navigate. The new Shopping Cart feature addresses some of the flaws and inconsistencies in the previous version, streamlining PrimeTime Clothing's already user-friendly interface.
The website redesign was important as the vast majority of PrimeTime's business is conducted through their site, the main hub for their wholesale fashion and accessory business which is known for distributing contemporary styles from prominent Los Angeles area designers to retailers across the world. They carry men's, women's children's and plus-size clothing as well as jewelry, accessories, handbags, and more.
To see all of PrimeTime Clothing's products and services or to take advantage of any of their daily specials, visit their refurbished website at http://www.primetimeclothing.com/. They can also be reached by calling toll free (800) 323-5173 between 8 am and 4:30 pm PST Monday through Friday, visiting their warehouse in person at 700 E. Jefferson Blvd. Los Angeles, California (by appointment only), or you can follow them on Facebook, Twitter, Pinterest, Instagram, Tumblr, and Google+.
PrimeTime Clothing has been selling bulk wholesale fashions for over 25 years with the mission of providing the most contemporary, top-of-the-line clothing and accessories at the lowest possible price. This allows retailers to offer the finest in LA fashion for the lowest possible price, saving money for both themselves and for their customers without compromising on quality.