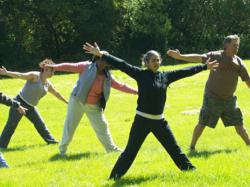 Scottsdale, AZ (PRWEB) May 03, 2013
May is National Family Wellness Month. Its goal is to raise awareness of family wellness and lifestyle changes that ensure the health and safety of the family circle.
Strong family support plays a big factor in healthy lifestyles. According to an Edelman Health Barometer survey, 46 percent of respondents say friends and family impact their lifestyles as it relates to health.
"We need a wholesale reevaluation of what health feels like," said Dr. Mehmet OZ of "The Doctor Oz Show". "I want to tell people, 'Listen, there are places where you can focus on your health, and it can actually be simple.'"
For many individuals, that place is a wellness center. This makes National Wellness Month the perfect occasion to show appreciation for clients with tips and programs for healthier lifestyles.
Here's how:
1. Offer special discounts.
The best way to show appreciation for clients is by saving them money. Encourage clients to take advantage of all your wellness services with special discounts.
2. Encourage healthy diets.
While healthy diets are the cornerstone of good family wellness, many children continue to consume unhealthy food and beverages.
As reported by the National Center for Health Statistics, childhood obesity has more than doubled in children and tripled in adolescents in the past 30 years.
To encourage healthy diets, plan seminars where dieticians can discuss healthy eating habits. If your facility charges clients for diet plans, consider offering a discount this month.
3. Post wellness tips on social media.
Share ways to improve family wellness on your Facebook, Twitter and LinkedIn pages. These can be original posts that you write or interesting articles you've found online.
They can be good reminders for your clients to visit your wellness center.
4. Schedule a guest speaker.
Identify a local wellness expert and ask if he or she would be willing to make a presentation. This will generate interest in the services you offer.
Learn how Appointment-Plus wellness scheduling software can help your wellness center grow business. Call 800-988-0061. Visit http://www.appointment-plus.com.
About Appointment-Plus: Appointment-Plus scheduling software helps wellness centers automate and streamline the booking process. It offers client self-scheduling, online credit-card processing and notification reminders that reduce the no-show rate by 70 percent.
For media and bloggers: If you're interested in interviewing an executive to learn more about Appointment-Plus, please e-mail us at erichard(at)appointment-plus(dot)com. If you're a blogger interested in sharing stories and guest articles, please contact us at the above e-mail.