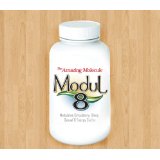 Costa Mesa, CA (PRWEB) May 06, 2013
Delgado Protocol is now offering MODUL8 on its website. MODUL8 is a natural supplement that is used as a replacement for Nitric Oxide, the essential molecule that improves blood pressure which results in better sleep, and reduced risk of cardiovascular disease. Founded by Dr. Nick Delgado, the Delgado Protocol offers supplements and advice for those who want to enhance longevity and fight serious diseases like coronary heart disease and diabetes.
MODUL8 comes in a chewable tablet that actually dissolves in the mouth and releases a potent Nitric Oxide blend of essential vitamins and Folic Acid. The MODUL8 blend is highly compatible with the body's physiology and that enhances the positive effects of the supplement if taken on a regular basis.
MODUL8 works by combining with saliva and friendly mouth bacteria to release nitric oxide for up to five hours. This process ensures a steady supply of Nitric Oxide and when that much Nitric Oxide is released into the body it produces some amazing affects. Nitric Oxide in small amounts provided it is not washed out by excess oily fats in the diet, helps dilate the body's blood vessels and that immediately improves cardiovascular health and improves blood flow throughout the body.
MODUL8 is also an effective Nitric Oxide supplement because it contains concentrated amounts of kale, spinach, pomegranate and beet root juice, all foods that have been proven to be richest in nitrates. People who take MODUL8 can expect better sleep, better blood flow and reduced risk of cardiovascular disease.
MODUL8 joins other Delgado supplements that fight aging, support the immune system and battle cholesterol. The supplement is currently available on the Delgado Protocol website along with the company's many other products. Those who want to learn more about Delgado Protocol can visit the company's website at http://delgadoprotocol.com or call 1.866.319.0566 to speak with a company representative.
ABOUT DELGADO PROTOCOL
Delgado Protocol is an innovative approach to the prevention and reversal of coronary heart disease, stroke, diabetes and hypertension. Developed by Dr. Nick Delgado, the program focuses on the most effective steps to longevity, the ways to improve love and intimate function and how to extend longevity with proper diet, exercise and the right supplements.
###