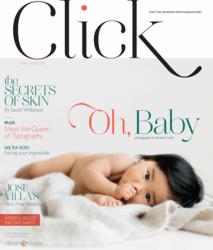 It was time for a print magazine that spoke directly to the demographic that now defines the photography market.
(PRWEB) May 07, 2013
Click (myclickmagazine.com), the first photography magazine created exclusively for women and female photographers, now boasts a circulation of over 30,000 and was recently named winner of the photography industry's [F] Award for "Best Magazine Publication Resource." Click was also recognized this year for individuality and excellence in design by the Society of Publication Designers.
Launched in November 2012 by Clickin Moms (clickinmoms.com), the largest and most active community of female photographers in the world, Click is a bimonthly print publication that offers readers photography and lifestyle image collections, real-world photographic education and tools, as well as features on inspirational and insightful professional photographers. Click issues have featured notable photographers such as MeRa Koh, Tara Whitney, Beth Rooney, Shannon Sewell, Rachel Devine, Emma Hardy, Alice Gao, Kristen Cook, Deb Schwedhelm and Jose Villa.
"Click provides readers with the same style, substance and warmth found in the Clickin Moms community," said Cameron Bishopp Davis, Click Editor-in-Chief. "Click combines photographic education, inspirational imagery, and personal features with refreshing content focused on home, decor, products, and culture," added Bishopp Davis.
Click's elegant design was created and continues to be helmed by art director Lisa Thé, formerly senior art director for Martha Stewart Weddings and Blueprint magazines.
"We created Click to fill a specific need in the photography market," said Bishopp Davis. "In the past decade or so, the number of women around the world who have picked up a DSLR camera and gotten into photography has exploded. Click is the embodiment of an industry forever changed by the emergence of women who dominate in the art, craft and business of photography. It was time for a print magazine that spoke directly to the demographic that now defines this market."
In less than six months since its launch, Click has already exceeded its circulation growth goals for all of 2013 and in winning the 2013 [F] Award the magazine was voted best in its class by thousands of photographers. In recognizing Click for excellence in print publishing, the Society of Publication Designers cited Click's design, style, content and emphasis on individuality.
"We believe Click's rapid rise and adoption is a testament to the magazine's relevance to all women who have an interest in photography, ranging from hobbyists who want to take beautiful images of their children to professional photographers who want to improve their craft and their business," said Bishopp Davis.
The launch of Click coincides with the 5-year anniversary of Clickin Moms and is the latest product offering from the largest community of female photographers. "We are thrilled with Click's rapid and overwhelming success and proud of the growth that Clickin Moms has achieved over the past five years, but it is the warm and giving community of photographers at all levels that sets Clickin Moms apart," said Sarah Wilkerson, CEO of Clickin Moms.
"The Clickin Moms community is made up of hobbyists, artists, and professional photographers drawn together to share their love of photography and learn from each other. No matter the size of the community or Click's readership, our commitment to a sharing and learning environment that supports photographers at every stage of their artistic development will always be the foundation of Clickin Moms," added Wilkerson.
For a limited time, Clickin Moms is offering free access to the digital edition of the latest issue of Click via the following link: myclickmagazine.com/freeissue
With over 16,000 members, Clickin Moms is a community of professional photographers, aspiring professionals, hobbyists, artists, and women who are simply passionate about making images. Founded in 2008 by professional photographer Kendra Okolita and 100 women seeking a better way to celebrate their love of photography, the Clickin Moms' community has steadily grown in size and offerings and now includes a blog, forum, educational program (CMuniversity), retail site, professional program (CMpro), and most recently, the bimonthly print magazine, Click. Clickin Moms is the largest female social network and subscription based community of female photographers – hosting active forums with over 3 million posts and receiving over 200,000 unique web site visitors each month.