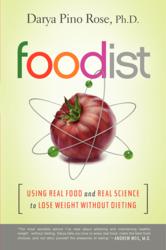 "In FOODIST, Darya Pino Rose gives the most sensible advice I've read about attaining and maintaining healthy weight without dieting...I recommend this book."—Andrew Weil, MD
San Francisco, CA (PRWEB) May 06, 2013
Darya Pino Rose, a neuroscientist and the creator of the popular blog SummerTomato.com (one of Time Magazine's 50 best websites of 2011), offers a unique "Healthstyle" book showing readers how to quit dieting and achieve lasting weight loss, simply through the love of food.
In FOODIST: Using Real Food and Real Science to Lose Weight Without Dieting (HarperOne; May 2013), she introduces a revolutionary new idea: the best way for sustainable weight loss is to eat real food. Cutting through the typical diet jargon—what to eat, how much to eat, and when to eat it—FOODIST offers a proven solution to lasting weight control. Taking readers through the nutrition and psychology involved in not just eating, but eating well, Rose teaches how to incorporate fresh, seasonal, and delicious ingredients into every meal—and reveals how to move beyond the daily obstacles and bad habits to keep the tasteless, empty, and unsatisfying food-like products off every plate.
According to Rose, losing weight should not be about sacrifice, deprivation, and willpower. She suggests that mealtime be seen as a celebration rather than a battle. Offering a different way of looking at food—and helping readers make decisions with a clear understanding of how to optimize health and happiness—she proves that enjoying good food is the key to sustainable weight loss.
Smart, accessible, and engaging, FOODIST will help tailor eating habits to match individual lifestyle and food preferences. Not only will readers permanently build healthier habits into their daily life, but they'll lose weight and enjoy food like never before.