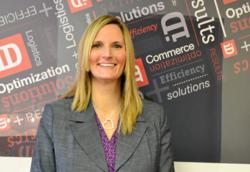 She is not only an industry expert, but is passionate about developing great client partnerships. – Dan Arriola, Executive President
Wood Dale, IL (PRWEB) May 13, 2013
iD Commerce + Logistics, a leading provider of commerce and fulfillment solutions to the multi-channel retail industry, is thrilled to announce the hiring of Laura McGowan, Director of Client Services. Ms. McGowan brings over 20 years of Direct Marketing experience within the fulfillment industry, as well as extensive project management experience. As Director of Client Services, Ms. McGowan will focus on maximizing all of iD's current and future partnerships.
"Due to our significant growth over the last eight months, iD needed someone with Laura's experience in business operations, client relations, and implementation management," said Dan Arriola, Executive Vice President of iD. "She is not only an industry expert, but is passionate about developing great client partnerships."
Prior to joining iD Commerce + Logistics, Ms. McGowan had roles such as Client Relationship Manager, Implementation Manager, and Director of Marketing Operations. She also attended Montclair State University where she graduated Cum Laude.
About iD Commerce + Logistics
iD Commerce + Logistics is an industry leader providing enterprise commerce and fulfillment solutions to the Multi-Channel Retail industry. iD leverages two decades of experience to develop personalized solutions that allow the management of all operations, technology, and customer relationships through a single partner. iD has received numerous industry awards, including Crain's Business Magazine's "Best Places to Work" in Chicago, and "101 Best and Brightest Companies to Work For" in Chicago by the National Association for Business Resources. iD has operations nationally, with offices in Chicago, Miami, Dallas, New York City, and Ft. Lauderdale. Company news and background information are available at http://www.idcomlog.com or call 630-694-7200.