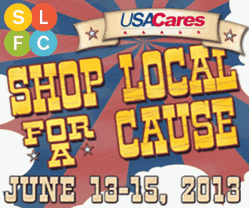 Chicago, IL (PRWEB) May 20, 2013
USA Cares provides post-9/11 military families with financial and advocacy support in their time of need. To date, they have responded to over 40,000 requests for assistance, given approximately $10,000,000 worth of grants, saved over 5,000 military homes from foreclosure and kept an estimated 6,000 children from becoming homeless.
USA Cares is also a featured charity with the NALA, (http://www.theNALA.com), a small business association, presenting the 3rd campaign from Shop Local for a Cause. Richele Brainin Insurance Agency Inc.-State Farm is one of many of the NALA's businesses throughout the country participating.
Richele's Agency is located at 642 N. Dearborn in Chicago's River North neighborhood, next door to Castle (formerly Excalibur) nightclub and around the corner from Chicago's famous restaurants, Hard Rock Café and the Rock-N-Roll McDonald's, at Ontario and Dearborn Streets. The agency provides a bilingual staff for Spanish speaking clients.
Please visit Shop Local for a Cause to learn more or to find local businesses participating.
About the NALA™
The NALA, a small business association, is for local business owners offering new online advertising & marketing tools, great business benefits, education and money-saving programs, as well as a charity program. The NALA has created a strong emphasis on partnering with charities, by giving their members the ability to participate in non-profit drives all year.
About Richele Brainin Insurance Agency Inc.-State Farm
Richele Brainin Insurance Agency Inc. has been serving the Chicago area for over six years. State Farm's mission is to help people manage the risks of everyday life, recover from the unexpected and realize their dreams. State Farm offers over 96 insurance and banking products to its customers including Auto, Home, Life and Business Insurance.
PR Contact: Tiffani Tendell
805.650.6121 x361
ttendell(at)starkartthenala(dot)com