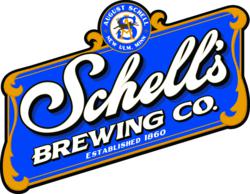 New Ulm, MN (PRWEB) May 04, 2013
The August Schell Brewing Co., the second-oldest family-owned brewery in the country, brewer of Schell's and Grain Belt, gave $11,000 to local charities at its annual Bock Fest thank you dinner last week.
Schell's Bock Fest is an outdoor winter festival held every year at Schell's Brewery. This year more than 5,000 people made the pilgrimage to enjoy the festivities including a search for the seven bocks of winter, live music and food. People line up along large fire pits manned by workers holding hot pokers for a chance to get their Bock beers caramelized, adding a sweet taste to an already delicious beer. Festers come together and leave as friends, with the only injuries being cold feet and fingers.
Last week marked the annual tradition from the Schell's Brewery to give back to a community that gives so much to them. Flandrau State Park, the host of part of the celebration, received a check for $1,000. A second check for $3,000 was given to the New Ulm based Minnesota Music Hall of Fame. Every year at Bock Fest a barrel is placed by the exit for festers to throw their unused tickets. The brewery counts these tickets and matches their donation and gives it to the Brown County Food Shelf. This year's donation to the food shelf was $3,000. Another $1,000 was given to the local Habitat for Humanity for their ongoing commitment to those in need in the New Ulm area. Finally, $3,000 was given to Soldiers Angels, an organization that provides emergency supplies to service members injured in combat.
About August Schell Brewing Company:
August Schell Brewing Company, located in New Ulm, MN, sits atop the same site it was built on in 1860. With its sprawling grounds, beautiful gardens, Schell Mansion, and deer park, the brewery is a tourist destination for any beer lover. Schell's boasts a proud heritage of 153 years of continuous family ownership and specializes in craft beers. In addition to the line of specialty beers, Schell's also produces Grain Belt Premium, Grain Belt Premium Light and Grain Belt Nordeast. For more information on Schell's Brewery, tour schedules or any of their 17 quality beers, go to http://www.schellsbrewery.com.