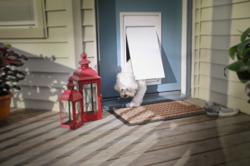 Knoxville, TN (PRWEB) May 06, 2013
Invisible Fence® Brand is celebrating the joy of pet freedom with a Doorman™ electronic pet door giveaway. The veterinarian-recommended brand of pet management solutions is giving away a total of four electronic pet door packages, each valued at $899.95.
Contestants can enter to win by visiting http://www.InvisibleFence.com/winpetdoor. The giveaway contest will run for the next eight weeks and entries will close on June 30th at 11:59pm ET. Four winners will be chosen randomly from entries made during this time period and will be announced on July 15th. No purchase is necessary to enter the giveaway.
The Invisible Fence® Brand comprehensive pet solutions offerings include three core products: Containment, Avoidance, and Access. The Doorman™ is the first fully integrated pet access door in the industry and works seamlessly with the other Invisible Fence® Brand products to provide a total pet solution for the household. With the one Computer Collar® a pet can go in and out as they please while still staying safely contained in the yard and out of areas inside and outside where they are not allowed.
"Owning a pet is a truly rewarding experience, but isn't always easy," said Laura Wright, Brand Manager of Invisible Fence® Brand. "With summer right around the corner we wanted to give pet owners a chance to have their pet's frequent need to be let in and out easier to manage."
The programmable and wireless pet doors give pets and their owners the ultimate freedom by allowing pets the freedom to safely exit and enter their home, while specific security features and automatic locking ensure no unwanted visitors. When the pet approaches the door, it automatically unlocks, allowing them to come and go.
The prize packages also include professional installation customized to fit interior or exterior doors as well as a Computer Collar® that activates the door based on controls of the customer's choosing. Features of the Doorman™ include automatic locks to keep other animals out, programmable settings to lock or unlock day and night, insulation and durable flaps to keep out the elements, and is also paintable and designed to attractively and seamlessly blend into any home environment.
"Our pet door helps with pets that may scratch doors or chew furniture due to separation anxiety, and also gives your pet entrance to your house or garage in bad weather," said Invisible Fence® Brand's Pet Training Manager, Brian Atkison. "All of our products make the pet's life and also our customer's life easier. No more having to open and close doors to let your pets in or out and no more early morning and late night wake up calls."
Doorman™ programmable pet doors are sold and professionally installed exclusively by Invisible Fence® Brand dealers who are specifically trained to custom-fit each home and pet with the Doorman™.
About Invisible Fence® Brand
Invisible Fence® Brand is the original electronic pet containment system and offers a comprehensive family of containment, avoidance, and access products to keep pets out of harm's way and prevent unwanted behaviors throughout both the home and yard. Produced by Radio Systems Corporation in Knoxville, Tenn., Invisible Fence® Brand is sold nationwide by professional, authorized dealers who provide Perfect Start™ Pet training and custom installation that have safely contained over 2 million pets. Invisible Fence® Brand has taken pet care beyond the home and started Project Breathe™, a program which has donated more than 10,000 pet oxygen masks to fire departments and first responders. For more information on Invisible Fence® Brand or to find a local dealer, visit http://www.invisiblefence.com.
###
Media Contact:
Laura Wright
Brand Manager
Invisible Fence® Brand
lwright(at)invisiblefence(dot)net
231-288-5555