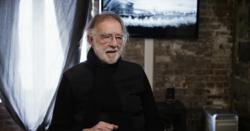 Santa Fe, NM (PRWEB) May 06, 2013
Santa Fe University of Art and Design (SFUAD) announced today that activist and filmmaker Godfrey Reggio will deliver the commencement address and receive an honorary degree at the university's 2013 graduation ceremony, which will be held at 10 a.m. on Saturday, May 11, in the Greer Garson Theatre on campus. The ceremony will also feature student singer Malcolm Morgan ('13, BFA in Theatre), student speaker Sandra Halpin ('13, BFA in Studio Arts), and music by the Acoustic Americana, Celtic, and African Drum Ensembles, among other performances. Forty-nine students are eligible to walk in the commencement ceremony this year.
"We look forward to staying in touch with our graduates as they advance in their careers, and we hope this university will always have a special place in their hearts," said Larry Hinz, president of Santa Fe University of Art and Design. "We're excited to bring Godfrey Reggio back to campus for this year's graduation ceremony because as a Santa Fean who has enjoyed tremendous success as an international filmmaker, he can give sound advice to our graduates as they explore their new roles in the professional world."
Reggio is the creator of a cinematic style that crafts poetic images of extraordinary emotional impact. He is best known for the Qatsi trilogy, Koyaanisqatsi (1982), Powaqqatsi (1988) and Naqoyqatsi (2002). With soundtracks by composer Philip Glass, these visceral films fuse image and music into wordless narratives that question the world we live in. The Qatsi films have played for global audiences to critical acclaim and have been performed more than 250 times with live orchestra and big-screen projection. They are still screened today.
Considered unclassifiable, the Qatsi films have received wide recognition. The United States Library of Congress deemed Koyaanisqatsi "culturally significant" and selected it for preservation in the National Film Registry. The Harvard Film Archive is the permanent repository for Reggio's films.
Born in New Orleans in 1940, Reggio moved to Santa Fe in 1959, where he was educated as a Christian Brother at St. Michael's College (now Santa Fe University of Art and Design). He taught grade school, then high school at St. Michael's High in Santa Fe. In 1963, he founded and directed Young Citizens for Action, a community organizing project that facilitated collaboration between barrio youth gangs in Santa Fe. He also co-founded La Clinica de la Gente, a facility that provided medical care to 12,000 people in Santa Fe, and La Gente, a community organizing project in Northern New Mexico's barrios. In 1972, he co-founded the Institute for Regional Education in Santa Fe, a nonprofit foundation focused on media development and the arts.
In the eighties, Reggio made the first two Qatsi films, which are still influential today. In 1991, he directed Anima Mundi, a 28-minute montage celebrating the magnificence and diversity of the world's animal species, also with a soundtrack by Glass. In 1995, he directed Evidence, a film about the profound effects of television on children.
"Now that I am an 'Ancient,' I can say with delight that my time on campus as a young Brother watermarked my life: the provocation to live beyond necessity; to not seek answers, rather to ask questions; and, to act as if I knew what I was doing," said Reggio. "With nostalgia, I return to celebrate commencement by raising questions that were asked 3,000 years ago. My inspiration for this occasion is a statement by Nietzsche, 'We have art so that we may not perish by the truth.'"
Reggio is a frequent lecturer on philosophy, technology and film at numerous colleges, universities and conferences throughout the world. He has just completed the new feature film Visitors with composer Philip Glass. Visitors is scheduled for a September 2013 world premiere as a live orchestral cinematic event and will be presented by Steven Soderbergh.
Reggio currently resides in Santa Fe and Red Hook, N.Y.
About Santa Fe University of Art and Design:
Santa Fe University of Art and Design is an accredited institution located in Santa Fe, New Mexico, one of the world's leading centers for art and design. The university offers degrees in arts management, contemporary music, creative writing, digital arts, graphic design, moving image arts (filmmaking and video production), performing arts, photography and studio art. Faculty members are practicing artists who teach students in small groups, following a unique interdisciplinary curriculum that combines hands-on experience with core theory and prepares graduates to become well-rounded, creative, problem-solving professionals. As a Laureate International Universities Center of Excellence in Art, Architecture and Design, the university boasts an international student body and opportunities to study abroad, encouraging students to develop a global perspective on the arts. Santa Fe University of Art and Design is accredited by The Higher Learning Commission and a member of the North Central Association, http://www.ncahlc.org.
# # #