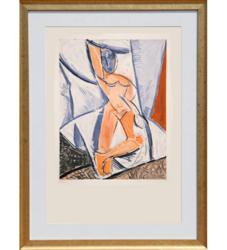 Picasso Estate offers Picasso's most treasured works of art. These authorized limited edition of lithographs has become known as the Picasso Collection and they were published during the period of 1979 to 1982 in limited editions of 500.
New York, NY (PRWEB) May 07, 2013
In the 1970-1990's the art world was ablaze with limited edition lithographs. Limited edition lithographs had made it affordable for art enthusiasts to collect great works of art with a modest investment. That led to over saturation and a concern for their potential appreciation and a cooling off of the excitement for these works.
Now decades later, the art world has re-embraced limited edition lithographs by renowned Masters like Pablo Picasso, creating the perfect environment to release a small collection of Picasso Lithographs from the Estate Collection archives. Now, for the first time in over 30 years exceptional Picasso lithographs are available for purchase.
What's more, the Picasso Estate (http://www.picassoestate.com) has made these Picasso lithographs available for purchase on their website, thereby removing the Gallery middle man to enable a new generation of buyers to become Picasso collectors.
Rare and one-of-a-kind: The lithographs are meticulously printed by Picasso's Master Chromist Marcel Salinas on Arches paper and contain his seal of authenticity.
Limited: As these works were produced in limited editions of 500 prints over 30 years ago, many were sold at that time. Now only a limited number of unique prints remain to be sold.
Authentic: Every piece is authentic and signed by Marina Picasso, Pablo Picasso's granddaughter, and embossed with the estate and chromist seals. The lithographs from the Picasso Estate Collection are officially approved by the heirs of Pablo Picasso. Visit Picasso Estate online at http://www.picassoestate.com to view the collection in its entirety.
For more information, contact Picasso Estate (http://www.picassoestate.com):
Elissa Jane Mastel
917.300.8882
Gallery(at)PicassoEstate(dot)com
http://www.picassoestate.com